Lake Nakuru National Park in Kenya
by Kamau Mbiyu
(Nairobi, Kenya)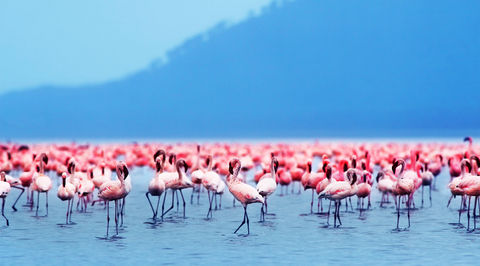 Kenya is a beautiful country, bestowed with lots of wildlife. Lake Nakuru National Park is the second most visited park in Kenya. The park surrounds the Lake Nakuru, which is a salty lake, and one of the lakes found on the floor of the vast Great Rift Valley. It is located about 150kms from Nairobi, the Capital city of Kenya. The park covers an area of 188km2.
It has plenty to offer wildlife and nature lovers. Those with interest in bird watching will most definitely long to visit. The shores of the lake act as a habitat for flamingos whose population could at times be over a million. Two species of flamingos are found here are the lesser and greater flamingo. The main difference between these two species is that the greater flamingo has a pale pink bill with a black tip, while the lesser flamingo has a dark crimson bill. The lesser flamingo is also shorter in height. These birds give the lake a spectacular pink hue set against a background of its white shore. Other birds in the park include pelicans and ducks among others.
Both the white and black rhinoceros species are also found in the park. In contrast to general misconception, the white and black rhino are not easily distinguished by color. The main difference between these two species is that the black rhino is a browser while the white rhino is a grazer. The black rhino has a protruding upper lip for eating from trees and shrubs. The white rhino has a flat mouth for feeding on grass. Another fascinating difference is that a mother black rhino runs ahead with her calf following behind her, while the mother white
rhino runs behind her calf, using her horn to tap the calf to direct it.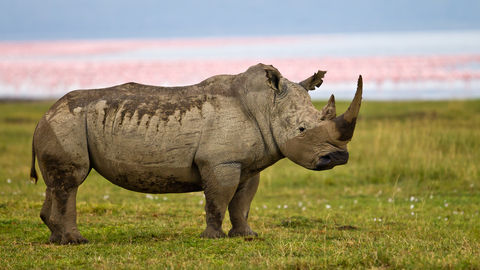 Other wildlife to be spotted here include buffaloes, lions, giraffes, water bucks, warthogs, hippopotamus, leopards and so much more.
A very fascinating spot to relax outside the car is the baboon cliff. It presents a perfect spot to have a magnificent view of the lake and in the distance, Nakuru town, providing a spectacular contrast between urban development and the natural landscape. Baboons are common here, and will hang around anticipating food from tourists. There is also picnic site near the main gate, a lovely spot to have lunch and even barbecue.
Because the park is not entirely big compared to other game reserves in Kenya such as the Masai Mara, Amboseli or Tsavo, Lake Nakuru National park is the ideal place to have a one day stopper
safari in Kenya
as much can be viewed in a couple of hours.
Also to be found on the outskirts of Nakuru town is the Menengai crater. Tourists are attracted here not only due to its breath-taking scenic landscape of steep slopes and terrain, but also due to stories of unexplained mysteries happening around, including disappearances of people, and presence of demons. Though its summit is accessible by car, hill climbers will find it a memorable experience to descend by foot to the floor and back to the top.
Lake Elementaita is also a few kilometers from Nakuru, along the Nairobi- Nakuru highway and also acts as a habitat for birds and has a lovely view.
---
Be sure to get your
visa to Kenya
and schedule the things you want to see and do from among the
most popular Kenya tours
.
How to get an emergency passport renewal in the U.S. or abroad. Discover the steps to renew your passport the same day.
Learn to expedite passport renewals as quickly as the same day. Where and how to renew passport in a hurry.
Use the online Passport Photo Wizard tool to make your own passport photos in minutes. Save money and time.
Watch step-by-step instructional passport videos of how to renew a passport in 3 steps.
Jet lag is almost certain if you travel across several time zones. Discover how to minimize the effects of jet lag for every age group and ensure a more rewarding family trip.