City of Kiev, Ukraine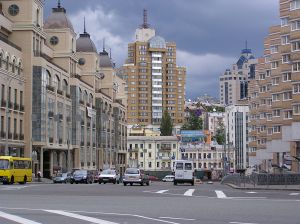 Quick facts:
Status:
capital of Ukraine
Number of regions:
10
Date of foundation:
fifth century AD
Area:
839 km2
Elevation:
179 m above sea level
Geographical coordinates:
latitude 50°27'N; longitude 30°30'E
Population:
2,6 million (2005)
Density:
3178 people/km2
Car code:
AA
Phone code:
+380 44
Kiev History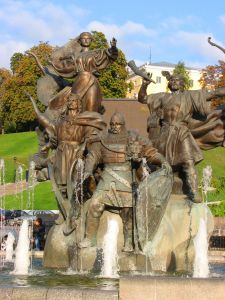 The legend says that there was a prince family of three brothers named Kiy, Schek and Khoryv and a sister Lybid. Kiy ruled a powerful Slavic tribe and was looking for a place to settle a new home for his people. When they came to the beautiful hills upon Dnepr river and saw wonderful panorama of blue river and seven hills covered with chestnut trees, they liked that place very much and decided to settle there. They established a city and gave it the name Kiev in honour of their oldest brother Kiy more than 1500 years ago. Prince Kiy and his family lived on one hill, Schek settled on another hill which got the mane Schekavitsa, and Khoryv settled on the third hill called Khorevitsa. Since 882 Kiev became the capital on ancient powerful state called Kievan Rus. In 998 Kiev Prince Vladimir introduced Christianity in Kievan Rus by baptising Kiev population in Dnepr river. In 1240 the city was demolished by mongol-tatars who invaded Kievan Rus, and later it was rebuilt. Since 1362 Kiev and major part of Ukraine belonged to Lithuania and Poland and in 1654 it became part of Russian Empire and then USSR. In 1991 Ukrainian people voted for independence of Ukraine and Kiev became its capital. Since that time it is the center of Ukraine's political, economic and cultural life. In November 2004 Kiev was the central place of Orange Revolution when hundreds of thousands of Ukrainian people protested against election falsification in the streets and later elected another ruling party and the President of Ukraine.
Climate:
moderate continental with mild winter and warm summer
Temperature:
average Kiev temperature in January is 6 degrees below zero Celsius, average in June is 20 degrees above zero Celsius; lowest temperature in winter is 25 degrees below zero Celsius; highest temperature in summer is 32 degrees above zero Celsius.
What to Wear
If you come to Kiev in summer, it would be nice to take a summer jacket, jeans and T-shirts, sandals or baskets and probably shorts or dress for the case of heat. For spring or autumn it is better to take a few warm things and a jacket. For the winter you will need a winter coat or a warm jacket, a few sweaters, a scarf, gloves and cap. If you go inside a church or cathedral, women have to cover their head with a shawl, while men need to take off their hats.
More Ukraine Travel Information
Expedite Your Passport Now!