City of Kiev, Ukraine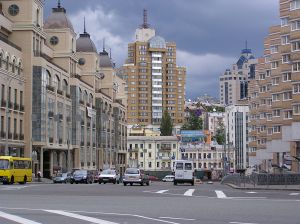 You are planning thoroughly your trip to Kiev, surfing the web for information on Kiev best sights, restaurants and attractions, and thinking how to plan your stay the best, what to see and where to go to. You are packing your new camera in order to make beautiful photos of golden domes, Khreschatik Street and Kiev parks. You are thinking what to wear and checking weather forecast for the days of your visit. In a few days or weeks you will get to another world with smiling people, ancient brick streets, monuments and cathedrals.
Popular Kiev Sights
I recommend you visit:
Golden Gate of Kiev
- the ancient gate to Kiev, which is now located in its very center, it is made of wood and stone with a small golden dome above
St Michael Cathedral
- newly rebuilt cathedral with beautiful blue walls, ornament and large golden domes
St Vladimir Cathedral
- cathedral in Kiev center where official orthodox religious ceremonies take place
St Andrew Church and Andrew Descent (Andreevskiy Spusk)
- a popular place with tourists with numerous souvenir booths, old brick descent, art galleries and museums
Kiev Cave Monastery (Lavra)
- the ancient monastery where you can see the caves where monks lived in ancient times, several churches and the largest Bell tower in Kiev
Russian Art Museum and Ukrainian Art Museum
- art connoisseurs will get much pleasure seeing masterpieces of world art in Kiev museums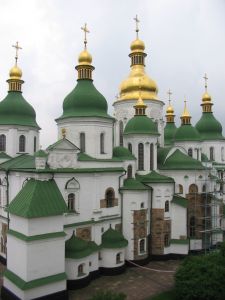 St Sofia Cathedral
- one of the most beautiful Kiev cathedrals with Bell Tower and chestnut trees around the cathedral
Kiev Opera and Ballet Theater
- an enjoyable experience of listening to live classical music and watching dances
Pirogovo ethnic village
- an opportunity to see old village houses, windmills and household appliances of different Ukrainian regions
War Museum
- you can see there numerous tanks and war airplanes and the gigantic metal statue of woman symbolizing Homeland
Kiev Botanic Garden
- in spring and summer you can see there beautiful trees and blossoming flowers
Mariinsky Palace
- a majestic palace where official government ceremonies take place, it is surrounded by green park with panorama of Dnepr and its left bank
Independence Square
- the very central part of Kiev, from which the distances to other cities are calculated, it has a large underground shopping center, central Post office, banks and restaurants
Khreschatik Street
- main street in Kiev where people can walk on the highway on Saturday and Sunday
Vladimir Mount
- a park on the mount with large statue symbolizing Prince Vladimir with cross when he introduced Christianity and baptized Slavic people.
Eating Out in Kiev
To try delicious Ukrainian cuisine we recommend the following Kiev restaurants:
Pervak restaurant
- a medium-price restaurant located in 2, Rognedinskaya St. You can taste borsch and vareniks, small pies and various meat and fish dishes. The dinner will cost you about $30-50 per person depending on the food and drinks you choose.
Taras restaurant
- located in Shevchenko park near major Kiev Museums, close to Kiev University. You can order various pancakes as well as national cuisine dishes. The dinner will cost you $35-55.
USSR restaurant
- located near Kiev War Museum and Kiev Lavra Monastery in 42/1 Sichnevogo Povstannya St. and decorated with USSR symbolics. The dinner will cost you $35-55.
Puzata Khata (Big Bellied House)
fast food restaurant which combines original interior in peasant house style, tasty Ukrainian food, vast choice of dishes and low prices. It is located in very center, 1/2a Basseinaya St., in the beginning of Khreschatik. Here you can try traditional Ukrainian pampushky, Chicken Kiev, different salads and main courses. On the first floor you can also choose one numerous cakes and even order fresh made juice. The dinner cost is $3-10 per person.
Zdorovenky Buly (Good Health to You)
That's a very popular fast food restaurant located near Khreschatik metro station which probably has the largest choice of different foods: salad bar, pancakes, varenyky, pizzas, soups, tasty desserts. Its comfortable rooms are decorated in various styles: Chinese, Indian, Egyptian and Greek. It also has Tea bar with cakes where one can sit and talk. Dinner: $3-10 per person.
Ukrainian Souvenirs
You can buy various Ukrainian souvenirs on Andrew Descent (Andreevskiy Spusk): embroidered towels, matrioshkas, wooden painted plates and eggs, glass souvenirs, small dolls in national clothing, paintings and clothing. There is also a souvenir section in Kiev central magazine (Tsum), located in Khreschatik St and a souvenir shop near St Sofia Cathedral.
More Ukraine Travel Information
Expedite Your Passport Now!