Kharkov Ukraine Travel Guide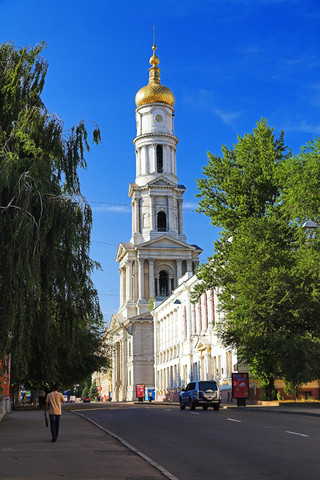 Kharkov, also known as Kharkiv, is the second largest city in Ukraine. It has a population of nearly 1.5 million. The city is located in the northeast of the country. People living in Kharkiv are known as Kharkivites. Kharkov is one of the main industrial, cultural and educational centers of Ukraine. Its industry and research specialize on arms production and machinery. There are hundreds of industrial companies in the city. Among them are world famous giants Morozov Design Bureau and Malyshev Tank Factory (Zavod Malysheva, a leader in tank production since the 1930s), Hartron (aerospace and nuclear electronics) and Turboatom (turbines producer). There is an underground rapid-transit system with 35 km of track and 28 stations. Another landmark of Kharkiv is its Freedom Square (Ploshcha Svobody), which is the second largest city square in Europe, and the 4th largest square in the world.
Geography
Kharkov rests at the confluence of the Kharkiv, Lopan, and Udy Rivers, where they flow into the Seversky Donets watershed.
History
Archeological evidence discovered in the area of present-day Kharkov indicates that a local population has existed in that area since the 2nd millennium b.c.e. Cultural artifacts date back to the Bronze Age, as well as those of later Scythian and Sarmatian settlers. There is also evidence that the Chernyakhov culture flourished in the area from the 2nd to the 6th century. Founded in the middle of 17th century, the city has had a university since 1805. During the early years of the Soviet Union, Kharkiv was the capital of the Ukrainian Soviet Socialist Republic (from 1917 to 1934). In the early 1930s, the Ukrainian famine (Holodomor) drove many people off the land into the cities, to Kharkiv in particular, in search of food. Some of them died and were secretly buried in one of the city's cemeteries. During April and May 1940 about 3800 Polish prisoners of Starobelsk camp were killed in the Kharkiv NKVD building, later buried in Pyatikhatky forest (part of the Katyn massacre). During World War II Kharkov was the site of several military engagements. The city was captured by Nazi Germany and its military allies, recaptured by the Red Army, captured again twice by the Nazis and then finally liberated on August 23, 1943. Seventy percent of the city was destroyed and tens of thousands of the inhabitants were killed. It is mentioned that Kharkiv was the most populated city in the Soviet Union occupied by Nazis, since in the years preceding World War II Kiev was the smaller of the two by population. Between December of 1941 thru January of 1942, an estimated 30,000 people were killed by the nazis (mostly Jewish). They were laid to rest in one of the largest mass graves that is known as Drubitsky Yar.
Attractions
Of the many attractions of the Kharkov city are the: Gosprom building, Memorial Complex, Freedom Square, Taras Shevchenko Monument, Mirror Stream, Uspensky Cathedral, Militia Museum, Pokriv Cathedral, T. Shevchenko Gardens, Kharkiv's funicular (shut down due to accident), Blagovishensky (Blessed News) Cathedral, Children's narrow-gauge railroad, Building on Sumskaya Street #6, and many more.
Sport
Kharkov is one of Ukraine's largest cities and as in the whole country sports are taken seriously. The most popular sport is football. City has two clubs playing in the Ukrainian Premier League.
Travel Accommodations in Kharkov Ukraine - What to Expect From Rented Apartments
Ten years ago nobody knew about such country as Ukraine, now many foreign people come here. Some of them come here for business, others in search of their pretty Russian and Ukrainian brides, others are members of charity and educational organizations, but whatever the reasons for their visits are they all need the place to stay. As we all know - the demand increases the offer. If ten years ago the only place where a foreigner could safely stay was Kharkov hotel Mir, now there are many new Kharkov hotels and many Kharkiv apartments for rent. If you decide to come to Kharkov in hot season such are holiday seasons - December, January, February, and also September, October, make sure to your accommodation in Kharkov at least two weeks prior to your visit. In general it is better to book your travel beforehand, as Ukraine is becoming more and more popular destinations for air travel companies, and flights to Kharkov may be quite difficult to book, if you do it the last moment. Every year more and more apartments in the downtown of Kharkov are given for rent. All the apartments for rent have good furniture, redecorations of Euro standards, modern electrical appliances, so they are convenient and relatively not expensive for your stay. You may find an accommodation for rent that will satisfy your demands either economy class 1 room apartment or luxury 3 room apartment with king size bed, dish washing machine, satellite TV and Internet. Who knows what the reason for such popularity is, maybe it is unforgettable beauty of Ukrainian brides, maybe possibilities for making quick money, maybe just friendliness of Ukrainian people, but anyway Ukraine is becoming very popular. Apartment Kharkov is an online resource for booking comfortable
Kharkov apartments to rent
.
Apply Online for Your Ukraine Visa
Plan ahead and sign up for the
most popular Ukraine tours
.
Expedite Your Passport Now!
Click to Call for Expedited Service!