CDC Health Information for International Travel 2014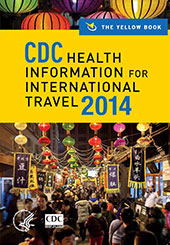 Health and safety are concerns of every traveler, especially those who visit international destinations. An important resource for discovering up-to-date health recommendations and safety tips is the
CDC Health Information for International Travel 2014: The Yellow Book
. Updated by a team of nearly two hundred experts, this book has all the latest recommendations from the American government for citizens of the U.S. who travel abroad. The product description states the following. "Clearly written and featuring full-color illustrations, the book provides easy-to-read disease risk maps, information on where to find health care during travel, advice for those traveling with infants and children, a comprehensive catalog of diseases, and detailed country-specific health warnings. For example, the section on the Caribbean lays out the recommended immunizations and examines specific health risks for travelers to the region, ranging from malaria to dengue, yellow fever, and traveler's diarrhea. But the book goes beyond the risk of disease to discuss dangers such as violent crime-fortunately, not a great danger to tourists in the area-and also to remind travelers that the single greatest cause of injury death among visitors are traffic accidents. The section on the Caribbean also notes hurricane season and outlines the risks involved in snorkeling, diving, and other water activities common to the area." Amazon carries The Yellow Book in both paperback and Kindle versions.
Click for expedited passport courier service in 24 to 48 hours!
.
Expedite Your Passport Now!
Click to Call for Expedited Service!