Guadalupe Island Shark Diving Report
by Mike Everson
(Florida)
Isla Guadalupe sharkdiver.com
MV Horizon Crew


Captains Spencer and Cary
Deck Hands Kyle, Mark and John
Dive Master Martin
Galley Mark and Beth
Shark Diving Adventurers
John, Bob, Steve, Jan, Ariel, Ka-Hay, Jeff, Alec, Lisa, William, Marcus, and yours truly
Isla Guadalupe Shark Diver Trip Report - Aug 16 – 21, 2010
On the evening of Aug 16 at around 9pm 11 others and myself boarded the MV Horizon with Shark Diver at H&M Landing in San Diego in search of adventure, Great White Sharks, and in some cases in search of ourselves. We came from Ireland, London, Hong Kong, the U.S. and in my case Canada. It truly was an international trip!
The crew introduced themselves as we all got to know each other through the course of the evening. The crew is simply unbelievable! The level of care, service, and friendliness is topnotch. Throughout the trip they displayed and executed some of the best customer service I've ever experienced. Easily rivals that of Disney's legendary service and in some cases bettered it. Kyle and Spencer will have you laughing, both Marks and John will make you feel at ease with their easy going salt of the Earth natures, Martin and Cary will fill you up on knowledge and information, and Beth will make you feel right at home with that outgoing bubbly personality.
The accommodations aboard are obviously on the small side but are surprisingly comfortable. More than enough comfort throughout the boat whether it be in your cabin, the galley or the decks to get yourself some space when you feel the need. In those rare times I wanted to be alone in my thoughts I always found it. But you'll be having too much fun with the crew and fellow travelers for too much of that.
I will give a heads up; the nights can get surprisingly chilly and I wish I had brought a couple more long sleeve shirts over short sleeves. Also make sure to bring some sea sickness remedies. Bring more than you think you'll need. The going there was excellent, very smooth. The way back however got pretty rough and I did get sidelined to my cabin for about 20 hours or so and missed out on some of the best damn food you could ever eat and fun times with new found friends.
And that food I mentioned, well it is incredible. Mark and Beth know how to put together a menu! I miss it already especially Mark's raspberry chipotle sauce! Kyle warned us at the beginning of the trip that they would keep us well fed to the point that we'd beg them to stop feeding us. He wasn't kidding. We all began to worry about our waistlines.
Enough of the boat and the crew and food. It's the sharks you want to hear about. So lets have at it. One day after we left Ensenada, Mexico with a pod of dolphins and later a pod of pilot whales leading the way we arrived at Isla Guadalupe in the early morning. According to my journal it was around 5AM that it began to appear out of the darkness and cloud cover with the anchor dropping around 6:30AM. Oh one more thing, do yourself a favor and set an alarm for that experience. As the resident early riser aboard among the passengers I can't begin to describe how incredible the sunrise in Guadalupe is. It's so picture-perfect that if you saw it on a postcard you'd think it was photoshopped.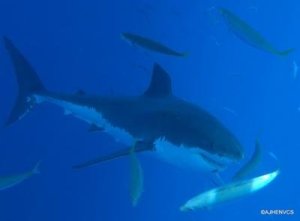 The cages had been in the water for all of about 30 seconds and the first group not yet suited up before Ariel shouted from the back deck "SHARK!" We all scampered to the back deck rails and there it was. A beautiful Great White Shark cruising past the cages leisurely making its way around the boat. We all ooohed and ahhhed at the size and then laughed as Martin said he's just a little guy only about 9 feet long!
Well you never saw 6 people put on wet suits so fast in your life! I was in the first rotation and first in our cage. I did slow things up a bit as having no previous scuba experience I got nervous and panicked a little once under water. I found breathing difficult and had a claustrophobic feeling and had to surface. Thankfully Martin was in the cage with us for first rotation and he quickly explained that what just happened to me was normal for first timers and gently and calmly reassured me. I can't say enough about how well Martin calmed and re-instructed me. Within 2 minutes we were back underwater and I was doing fine.
In the first hour of our rotation we had the shark that Ariel had spotted and shortly
thereafter Bite Face who was sporting his tag from Operation Great White joined him. Bite Face loves to swim close to the cages and make eye contact with you. Let me tell you, when you look millions of years of evolution in the eye and it looks back at you making eye contact with you, it changes you. Your life and the way you see the World won't be the same
Throughout the entire first day every cage rotation there was always 2 – 4 sharks of varying sizes nearby. Not one rotation went by without divers able to get up close and somewhat personal with a shark. Martin was so excited to see Bite Face and perhaps Bite Face was excited as well. He never did leave the area. He continued to make visits throughout our 3 days of diving.
Over those 3 days we saw either 14 or 15 different sharks anywhere from around 5 feet to 14 feet in length. We saw Bite Face stalk and try to have a snack of sea gull. We watched a game of cat and mouse play out for over an hour between a sea lion who ventured out to the cages and the 2 sharks that came to investigate said sea lion. It was fascinating! The sea lion would constantly swim upside down so it could look below for potential attack runs. It would position itself behind the sharks so it could nip at their tails. When it would get caught by surprise it would swim to the boat hull and Spider-Man style perch upside down and crawl along the hull to hide in the props. All of us were of mixed emotions of the event. None of us were sure weather we wanted the little fella to evade being lunch or not! He eventually did return to the safety of the beach by eventually pestering one of the sharks so much it left the area for a while.
I can't recommend this trip enough. Even if you're not that fascinated by sharks it's an amazing adventure. The crew is amazing; I miss all of them already. Not waking up to Spencer's cry of "White Sharrrrrrrrk" and Kyle's one-liners makes me sad. Not to mention Mark and Beth's food, fantastic conversation with John and Mark and the wealth of information that Martin and Cary are able to provide about the ocean and the animals in it.
Homecoming
As I sit a few days removed from the experience I can't help but feel a little sad. It was bittersweet coming home. While it was nice coming home it almost doesn't feel quite like home. As I said at the beginning of this some of us came in search of ourselves as well as White Sharks. Well that would be me. I've been on a road of some self-discovery the last year or so in hopes of making some changes in my life and the way I approach it. I did just that on this trip. I discovered a part of me I had lost a long time ago as well as found some new things out about myself. I told deck hand Mark this through tear filled eyes as we approached H&M Landing as the adventure rapidly came to a close. I won't share his words here as they are for us suffice to say his kind words and warm handshake and embrace went a long way and I know I've made a new friend. So while I'm back home in Canada there's a part of me that's still in the deep blues of the ocean. I fell in love with being in that endless blue water and it's varying shades. The rays of sunlight dancing down from the surface as far as the eye can see. The peace and serenity I found under the waves was as awesome as the White Sharks. I will be getting my SCUBA certification. I also rediscovered my love of photography and will be getting back into that as well.
I look forward to seeing my new friends aboard the Horizon again in the future; I will be doing this trip again! Several times! I also look forward to keeping in touch with my fellow adventurers. I'm sure once you take this trip you'll find you will want to do the same
Many thanks to Patric and Shark Diver and Greg and Horizon Charters. To the crew of the MV Horizon and my fellow travelers on this trip, happy trails to you all until we meet again.
Shark Diver - Mark Denstedt
www.sharkdiver.com
P.S. Kyle mentioned sharks love AC/DC. He is right. Anytime he found AC/DC on the radio sharks showed up within seconds of it being turned on. I recommend bringing the AC/DC discography on your iPod.
UPDATE:
Mailing delays and high demand are impacting passport processing. The Department of State's processing times begin when applications are received at a passport agency or center and not when you mail them or apply at a local acceptance facility.
Standard service may take between 10 and 13 weeks. This timeframe does not include delivery time. Mailing times vary across the country.
Expedited service takes from 7 to 9 weeks excluding mailing times on the front and back end. Current mailing delays are significant. Requesting 1-2-day mailing service is recommended.
Regional passport agencies are offering two types of appointments: Life-of-Death Emergency Service and Urgent Travel Service.
Life-or-death emergencies are serious illnesses, injuries, or deaths in your immediate family (parent, legal guardian, child, spouse, sibling, and grandparent) that require you to travel outside the United States within 3 business days.
If you need to travel due to a qualified life-or-death emergency, please call the National Passport Information Center for an appointment.
For Urgent Travel Service, you need to call 14 days before your scheduled international travel or 28 days if you also need to secure a foreign visa.
If you need to travel urgently for reasons other than a life-or-death emergency, please call the NPIC.
A registered expedited passport courier can often assist in obtaining a passport as quickly as the same day. You can learn more about this service here.
Requesting express service at post offices and other facilities that accept application forms from U.S. citizens.
Where processing centers are located. How to schedule an appointment. What documents to take with you.
How to pick a legitimate courier service company to assist in getting your passport quickly.
Guide to help you decide if standard or fast track processing is the best option for your situation.
Learn to expedite passport renewals as quickly as the same day. Where and how to renew passport in a hurry.
Watch step-by-step instructional passport videos of how to renew a passport in 3 steps.
Use the online Passport Photo Wizard tool to make your own passport photos in minutes. Save money and time.
List of the most important travel documents and information about how and where to get them.
Cool ways to make your money stretch farther on travel expenses so that you can go more often and stay longer.