Get Organized - Tame the Bulging Bags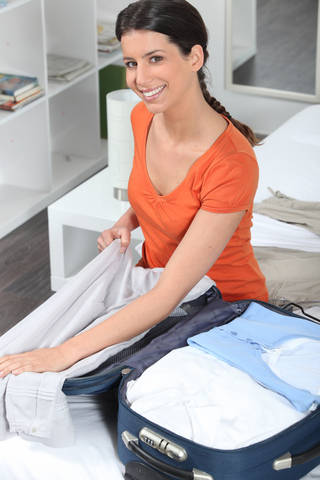 When preparing to travel, lay out all your clothes and all your money. Then take half the clothes and twice the money." -- Susan Heller Packing for a vacation or a business trip can be daunting and the nagging question, "Do I have enough or do I have too much," is never far from our thoughts. The "just-in-case syndrome" or the "what-happens-if" thinking can result in bulging bags. Packing is just like everything else in life: the better the plan, the more successful the venture will be. So, how do you pack those bags for travel without indulging in the bulge? Simple, if you follow the Professional Organizer's secrets:
1. Plan - List each day you will be traveling and the activities you will be participating in to know what types of clothes you will need. 2. Assemble - Use your planning list as a guide to assemble complete outfits in a color scheme that can be accessorized. Black/white or khaki/red work well together. Decide which shoes you will wear with each outfit. 3. Scrutinize - Take a good look at the shoes you plan to take. Do you need different shoes for each outfit? If so, eliminate those pieces that are not versatile. You want to take as few shoes as possible since they are the bulkiest item to pack. I suggest one dressy pair, a good walking shoe, and maybe sandals for warmer climates or boots for inclement weather. 4. Pack - Traveling with a garment bag makes packing easy if you put a complete outfit on a single hanger. If everything is going into the suitcase, you need to consider taking wrinkle resistant clothing because whether you roll or fold your clothes, they are going to be squished.
Tips for Organized Packing
- Make a master list and check off each item to avoid forgetfulness. - Securely attach an ID tag to all bags. Place a business card or paper with your name and phone number inside. Avoid hanging tags that catch in conveyor belts. - Put a bright unique mark on your bag to distinguish it from the look-alikes. - When traveling with a companion, consider buddy packing - a few things of yours in the other person's bag and vice versa. If one suitcase is lost, you both still have a few things. - Check http://www.weather.com for conditions in the area you will be visiting and pack accordingly. - Pack a separate toiletry kit for each family member. Use plastic Ziploc bags for travel-size shampoos, lotions, toothpaste and toothbrush. (Freezer bags are thicker and last longer.) - Pack basic travel jewelry that goes with everything rather than separate pieces for each outfit. Leave the diamonds home! - Put socks and underwear in clear bags and remove all the air to save space. When you arrive at your destination, toss the bags into the dresser drawer for easy unpacking. - Place shoes in bags to keep them from soiling clothes. - Assemble a simple first-aid kit with antiseptic pads, gauze, bandages and Vaseline. - Take along a small sewing kit for emergency mending. - Use a small satchel or bag for travel necessities -- a sleeping mask, earplugs, a night-light, travel alarm clock and flashlight with fresh batteries. - Pack extra Ziploc bags. They take up very little space and come in handy for dirty items, wet clothes, purchases, leaking bottles, snacks, etc. - Create a portfolio for travel documents including itinerary, tickets, contact information, copies of prescriptions, etc. and put it in the carry-on case. - Establish a web-based email address and send yourself a scanned copy of driver's license, credit card information and the front page of your passport. In an emergency, you can access and print this information. - Go through your wallet and remove all items that you will not need on vacation: library card, department store charge cards, extra charge cards, and all the little scraps of paper that seem to accumulate over time. Inventory the contents of your wallet so you have a record of exactly what you are carrying. - If you plan to send postcards during your trip, create mailing labels on your computer and tuck them into your suitcase along with stamps and other needed items. - Anticipate extra purchases by packing a flattened tote bag or consider mailing heavy items home. - To eliminate the last minute rush to repack to head home, learn the pack-backward method. Take everything out of your suitcase upon arrival and put it back in after you wear it and will no longer need it. - Pick up a business card or matches from your hotel and you will always have their address and phone number, in case you get lost or have an emergency. - Don't forget to bring plenty of one-dollar bills for all the tipping opportunities. - Organize your packing, lighten the load and travel abundantly! Planning saves time, money and energy. You reap the benefits of less worry, less weight!
Safety and Security
Caution is the key to safety and security while traveling. There are simple things you can do to eliminate frustration and worry. - Prepare an inventory of the contents of all your bags. Do not rely on your memory. It can be faulty in times of stress. - Store travel documents, credit card information and extra money in the hotel safe deposit box. Do not keep it in your wallet or purse, which is the first thing thieves take. Only carry what you are willing to lose, physically and emotionally. - Leave a copy of your itinerary and pertinent information with someone at home. Give them enough information to handle an emergency. - Secure your home as safely as possible to avoid sending a signal that the house is empty. Have someone pick up the mail and newspapers. Ask them to periodically check windows and doors. The "Safety First" TipSheet on the Products Page of my website provides valuable information to secure your house while you travel as well as when you are home. And while you are checking the TipSheets, look for "Organizing Your Photos." When you return from your delightful vacation, you will want to put your pictures in order and eliminate photo clutter. If you take the time to plan, assemble, scrutinize, and pack using the ideas I have suggested, you will be well on your way to an enjoyable and relaxing trip. Be proactive, flexible and anticipate contingencies, but remember nothing is perfect. Your goal should be to pack light but abundantly. Make your list and check it twice. This will ensure that you pack what you need and need what you pack. Isn?t that what living abundantly is all about? Clutter can entangle you in chaos and confusion and plunge you into depression. Clutter has a negative effect on all aspects of your life - physical, mental and emotional. It traps you into living in the past, fearful of the future. Take the steps to eliminate clutter and rejoice in your peaceful surroundings. With the help of Judith Ann Kirk you will learn to eliminate stressful clutter and find joy in your surroundings.
Expedite Your Passport Now!
Click to Call for Expedited Service!