Express Passport - Expedited Passport and Visa Service
Express Passport
works with regional passport agencies, embassies and consulates to secure your passport and visas in as little as 24 hours. They specialize only in securing expedited passports and visas, quickly and safely. When you are pressed for time and need to obtain your travel documents in a hurry, you can be confident that Express Passport will get the job done for you.
US Passport Services Offered
First Time Passports
Passport Renewals
Lost or Stolen Passport Replacements
Passports for Minors
Name Changes
Add Visa Pages
U.S. Passport Expediting Fees
The travel document processing fees below do not include government fees.
| | |
| --- | --- |
| Same day service/ One Business Day | $ 299.00 |
| 2 Business Day Emergency Service | $ 249.00 |
| 3 - 4 Business Day Priority Service - | $ 199.00 |
| 5 - 7 Business Day Express Service | $ 149.00 |
| 8 - 14 Business Day Standard Service | $ 79.00 |
If you are in a hurry, click for
Express Passport Service
.
Travel Visa Expediting Service
ExpressPassport.com also offers a travel visa expediting service. However, their service is limited to about a dozen of the most popular destinations that require visas. These include Bolivia, Brazil, Cameroon, China, Egypt, Ghana, India, Kenya, Nigeria, Philippines, Russia, South Korea, Thailand, Turkey, Vietnam. If you are headed for one of these destinations...
Get your travel visa fast
.
Payment Forms
Visa
Mastercard
American Express
Discover
Kudos
The Better Business Bureau has registered no complaints agaings Express Passport over the past 36 months (length of time that the BBB maintains records).
Contact
ExpressPassport.com - Expedited Media, LLC
900 North Federal Highway Ste 200
Boca Raton , FL 33432
Tel: (888) 612-9899
www.expresspassport.com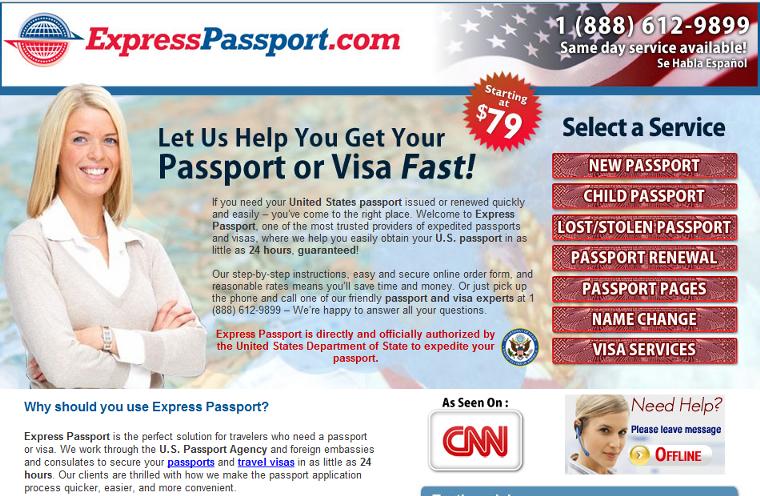 BBB Review of PassportExpress.com | Customer Reviews of PassportExpress.com | Website Stats for ExpressPassport.com
Click for expedited passport courier service in 24 to 48 hours!
.
Expedite Your Passport Now!