Ein Bokek at the Dead Sea Israel
by Bruce
(Israel Travel Secrets)
Ein Bokek - A fabulous oasis in the desert and a magnet for health seekers and tourists alike
Ein Bokek, located on the southwestern shore of the Dead Sea, just a short 15 minute drive from
Ein Gedi spa
, is a modern resort area with gleaming hotels, restaurants, pristine beaches, and plenty of shopping. Against the backdrop of the Judean cliffs and Dead Sea, it is truly a breathtaking sight to see.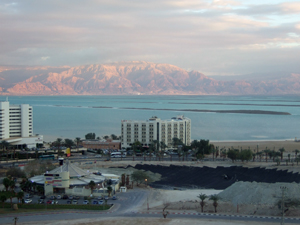 Ein Bokek
The hotels are all-inclusive (mostly 4 and 5 star), with indoor/outdoor freshwater swimming pools and elaborate spa facilities, not to mention, really great food. We stayed at the Le Meridian; it was a bit pricey because we stayed in a suite, but they all are.
Secret Tip #1:
Best bet is to shop online for best package deals (usually they will require at least a two night stay). You can get good last minute deals especially during off peak times December-February, but be advised the Dead Sea will not be warm.
Many of the hotels set directly on the beach, but even the ones that don't, offer easy beach access. Our hotel was situated less than a five minute walk to the beach with a designated private bathing area just for hotel guests. There is a lifeguard on duty most of the time; Not sure why as it is impossible to sink in the water anyway.
Secret Tip #2:
I don't recommend young children to enter the sea as the water will likely sting their eyes and they may panic and swallow water exacerbating the problem.
There are plenty of family friendly things to do at night as each hotel offers their own entertainment, music, movies, and neat stuff for kids to do. There is also a central plaza or round mall in the center of Ein Bokek with numerous shops, coffee bars (Aroma is really good, get the ice coffee), ice cream, and restaurants. They even have a McDonalds.
Ein Bokek Pedestrian Walkway
Just across the street from Ein Bokek on the west side of the road towards the mountains is a wonderful hiking opportunity called Nachal Bokek (Bokek stream or Wadi in English). The town of Ein Bokek literally translated meaning Bokek Spring actually adopted its name from this area. Nachal Bokek is a canyon-like gorge with a stream bed that is fed by a waterfall coming down from the Judean Mountains.
The trail starts at the bottom entrance and continues upward through a nice cool freshwater stream. The climb is moderate to easy and definitely suitable for all ages. Along the way, you will be struck by the
beautiful canopy of indigenous trees draping over the trail, as well as, the varying types of plant and animal life. It will become easy to forget that you are actually in an arid desert region.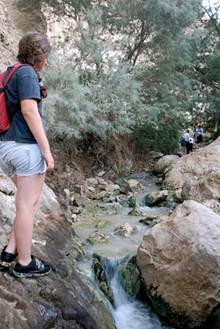 Nachal Bokek
Secret Tip #3:
Wear water resistant hiking shoes or rugged sandals (I prefer a brand called Keene which you can buy in the States) and wear a bathing suit underneath your clothes (You will see why later).
As you gradually climb up the hill, you will also notice little ponds and pools fed by the stream. It will be a welcome delight as the air is very dry and during certain times of the day quite hot. After about 30-45 minutes (trail length = 1.5 km. or less than a mile) you will arrive at a beautiful hoof-like waterfall.
Secret Tip #4:
Always, always bring fresh water. I can't stress this enough; at least 2 liters per person. Make this the number one priority for all hiking and traveling in Israel especially during the hot summer months.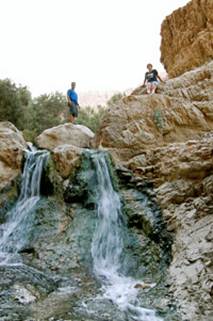 Bokek Waterfall
At the bottom of the waterfall, you will be tempted by the spring. Go ahead and jump in for a well-deserved refreshment. The water is clear and cold. If you want an amazing view and great picture opportunity, you can climb to the top of the waterfall (that's me up there in the pic above). Be careful, the rocks are slippery and sharp.
You can continue farther up the gorge but then the trail becomes much more challenging. We chose to hang out for a bit, then head back. It was a perfect way to end the day.
Final Secret Tip:
Sorry, this one is obvious but I felt compelled to share it anyway. Make sure you leave yourself enough time before sunset to head back. It gets very dark, very quickly.
Just a few words about me; about a year ago, I decided to create a very unique website with a few of my colleagues living in Israel called Israel Travel Secrets. Based upon our passion for the country as well as our knowledge and first hand experiences living there, we felt we had something unique and valuable to offer both first time and experienced travelers to Israel.
That 'unique something' is a view of the country from a local perspective. Specifically, our gift to first time visitors are the top recommendations or insider tips (the true secrets) on everything from how to get there, what to do, where to eat, and of course where to stay.
Bikur Na'im ! Have a great visit
Bruce Altchouler
Israel Travel Secrets -
www.israel-travel-secrets.com
Requesting express service at post offices and other facilities that accept application forms from U.S. citizens.
Where processing centers are located. How to schedule an appointment. What documents to take with you.
How to pick a legitimate courier service company to assist in getting your passport quickly.
Guide to help you decide if standard or fast track processing is the best option for your situation.
Learn to expedite passport renewals as quickly as the same day. Where and how to renew passport in a hurry.