The Effects of the 2014 Ebola Outbreak
on Travel in Africa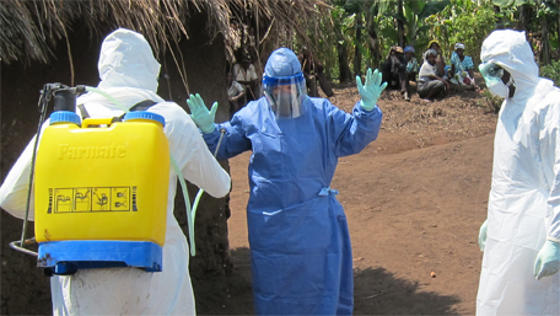 Update:
The Centers for Disease Control and Prevention has issued a warning for Americans to avoid nonessential travel to the West African nations of Guinea, Liberia, and Sierra Leone. In a definitive response to the Ebola outbreak sweeping Western Africa, Liberia's President Ellen Johnson Sirleaf has ordered the closure of all but three Liberian land borders. She is also restricting large public gatherings, quarantining communities hit hard by the disease, and implementing a massive preventive education campaign in an aggressive multi-pronged attempt to contain the virus. Air travel in and out of
Liberia
is allowed at two airports, but they present stringent preventive measures, according to President Sirleaf. Despite the precautions, at least one airlines is no longer offering flights into or out of Liberia, Sierra Leone, or Guinea. After last week, when a top Liberian official who flew from Liberia to Nigeria died of the disease, Arik Air, Nigeria's largest airline, suspended services to all three countries.
Current Ebola Epidemic in West Africa
Ebola virus disease (EVD)
is an often fatal Viral Hemorrhagic Disease. Once infected, the symptoms present as flu-like with a headache, sore throat, aches, and nausea then progress to diarrhea, vomiting, internal bleeding, and death. There is no medication or vaccine for Ebola, and of the five subspecies, the current outbreak is the deadliest with up to a 90% fatality rate. Early treatment is the best chance for survival. Ebola first appeared in 1976 in the Republic of Congo and was named after the river near where the outbreak began. Once the virus, which is thought to originate from African fruit-eating bats, was contained, there was not a single case between 1979 and 1993. It resurfaced most notably in 1995, 2000, 2007 and 2014. The current outbreak is by far the worst and to date has resulted in 15,261 cases and 11,325 deaths (as of April 1, 2016).
How the Virus Resists Current Containment Efforts
According to the World Health Organization, one of the problems with the disease is that it presents as flu-like symptoms and progresses rapidly. Often the first clue that they are dealing with Ebola is when health care workers begin to contract the virus. A top Liberian doctor died of Ebola over the weekend, and two U.S. aid workers are confirmed to have the disease there. In Sierra Leone, that country's top Ebola doctor contracted the disease last week too, but is currently responding to treatment. The big difference between the most recent outbreak and previous outbreaks is that the disease has been reported in 60 separate locations. What started in southern Guinea, soon spread to parts of Sierra Leone and Liberia, where the countries come together and the population is very mobile.
Doctors Without Borders
was the only organization treating the outbreak and quickly became overwhelmed by the number of cases. That remains the biggest challenge in containing the virus, not enough health care workers to go to all of the new locations.
World Health Organization (WHO) Not Ready to Recommend Travel Restrictions
Despite that the Ministries of Health from
Guinea, Sierra Leone, and Liberia
have collectively reported an additional 45 new cases and 28 new deaths from EVD between July 18th and July 20th, the WHO is not issuing any business or travel restrictions to any of the affected countries at this time. They are
monitoring the containment
of the virus, and estimate that it will be several months before that goal is reached. The definition of containment is the passage of 42 days without any new cases reported.
Liberia Mandates Precautions for Air Travelers
Although the U.S. Department of State and the World Health Organization are not prohibiting U.S. citizens from traveling to the countries, Liberia's only open borders are one between Liberia and Guinea, one between Liberia and Sierra Leone, and one between Liberia and both of the other two countries. Roberts International Airport and James Spriggs Payne Airport will remain open, but travelers passing through the airports should expect to go through mandatory Ebola prevention and testing centers. Travelers should also note that Liberia's president has mandated that restaurants and other businesses serving the public screen short Ebola education films, and has also authorized security forces to commandeer vehicles if necessary to help with the health response. As of publication, neither Guinea nor Sierra Leone have similar restrictions or precautions in place for travelers. If you have experience traveling to Guinea, Liberia or Sierre Leone, please submit your tips in the comments below.
Ebola Cases Confirmed in Other African Countries
Besides those mentioned above, there have been confirmed cases of Ebola in Democratic Republic of the Congo (DRC), Gabon, South Sudan, Ivory Coast, Uganda and Republic of the Congo (ROC). One case was reported to have been imported to South Africa. While the risk factor is far lower in these countries, travelers should take necessary precautions and be conscious of the dangers. You can inform yourself by visiting the Center for Disease Control and Prevention's
Ebola information page
.
Expedite Your Passport Now!