Competa, Spain: An International House Sitter's Spanish View
by Teresa Roberts
(Fort Wayne. Indiana)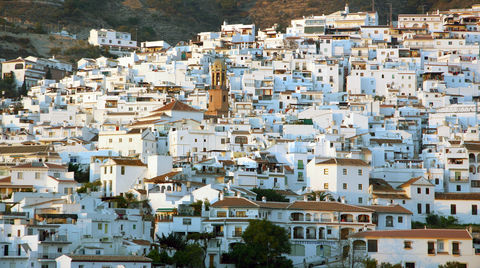 I am an international house sitter! Yes, you heard me right. I take care of houses all over the world while the owners go on business trips or vacations. I usually negotiate for an assignment that is no less than three weeks and no more than ninety days in length. I have had the good fortune of living in wonderful communities all over the world. Having said all of that, I have found a number of places that I now think of as home, or at least as my second home. Spain has a place at the top of my list of favorite destinations in the world. I always look for house sits overseas that offer a view from the window of the home that literally blows my mind away. These regions of outstanding natural beauty have become a kind of visual addiction for me. Spain fulfills that requirement!
I highly recommend the region of Andalucia. In particular, I recommend flying to Malaga, Spain and from there taking a bus along the coastal route towards the town of Torre Del Mar, a lovely little beach town that also deserves recommendations for future visits. However, once I arrive there, I always change buses and start the climb up the steep mountains to a very intriguing whitewashed village high above the coastline with some of the most spectacular views of the Mediterranean Sea imaginable. What's more, on a clear day one can see the etchings of Morocco.
Intrigued yet? Well, you should be! Although roughly 20 km from the sea, the little village of Competa is one of several that are perched on the mountainside. Distinctly representing a Moorish influence, the tiny winding, kissing streets and the dazzling white of all of the village houses are breathtakingly beautiful, providing an otherworldly experience. You will find yourself feeling as though you have stepped back in time. I have lived there now for an accumulation of roughly nine months, usually during the months of March through the end of September. Those are the months that see little rain and by July the temperatures, although dry, can get intense enough that the custom of the Spanish siesta makes absolute sense. That is when everyone retires to the cool of their ancient homes only to reemerge as the sun is beginning to set.
There is a lively nightlife in
this small village for various reasons. First of all, the Spanish tend to be quite social and after things have cooled down in the evening, everyone enjoys sitting outside to take in the fresh air while visiting with friends and relatives. The various plazas with their outdoor seating arrangements are usually quite busy during evening hours, until late at night.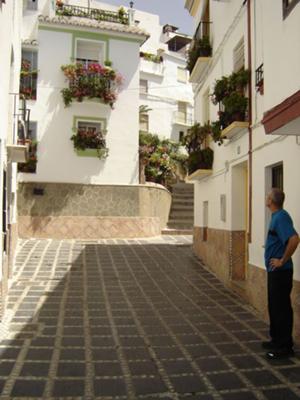 The houses, built in the Spanish tradition of the region, are generally several stories high with at least a top-level terrace. There's a lovely terrace lifestyle that I have come to enjoy. It seems as though the Spanish have the street life below, where people scurry about their business, and the more relaxed life above on the terraces. These terraces often have wonderful views of the Almijara Mountains and the Mediterranean Sea. In between are all the little white villages with sparking lights at night which are quite a delight to behold.
Looking for things to do? Although this little village is somewhat set apart from the rest of the world and can only be reached by a rather harrowing trip up the steep mountains with switchbacks and narrow passages, there is, luckily, a bus that passes through the town three times a day. I have often enjoyed a trip to the coast where I can indulge in the fresh catch of the day at a seaside restaurant or stroll on the promenade by the sea. There are lots of lovely seaside villages nearby. Torre Del Mar and the gorgeous village of Nerja come highly recommended. The capital city of Malaga is also well worth exploring. But if you enjoy total immersion in a community without the distractions of an action-packed tourist life, Competa is the place for you. It is large enough, roughly 4000 people, to provide restaurants and local festivities without making you feel lost in a sea of tourism. You will definitely, with little effort on your part, leave Competa with new friends. This is an eclectic community as many northern Europeans have retired to southern Spain for the good weather and friendly ways of the Spanish people. Competa has a a fine mixture of local Spanish families who have lived there for many generations as well as English expatriates, Germans, Irish, a few Americans, and more. This gives the little village an international flavor.
Read more about housesitting
How to get an emergency passport renewal in the U.S. or abroad. Discover the steps to renew your passport the same day.
Learn to expedite passport renewals as quickly as the same day. Where and how to renew passport in a hurry.
Use the online Passport Photo Wizard tool to make your own passport photos in minutes. Save money and time.
Watch step-by-step instructional passport videos of how to renew a passport in 3 steps.
Jet lag is almost certain if you travel across several time zones. Discover how to minimize the effects of jet lag for every age group and ensure a more rewarding family trip.