Brazil World Cup 2014 – All in One Rhythm
It only comes around once every four years and is one of the most exciting events in the sports—the World Cup. This year it's being held in Brazil, and if you're lucky enough to have gotten tickets you'll no doubt be headed to Natal, Manaus, and Recife to cheer on USA in the first three rounds. Here's a little bit about what to expect, how to get around, and what to do in each of these exciting World Cup cities, plus some tips to make sure things go smoothly.
Stay in Touch with Home
Before you go, a little preplanning will make your stay in Brazil even better. To keep in touch with the people back home, download the free
Kakao
app to your phone. Outside of the United States you'll find free Wi-Fi in nearly every public place, especially hotels and restaurants. With Kakao, all you need is access to this abundant Wi-Fi to make free calls and texts to anywhere in the world. Facebook also has a feature now in messaging where you can make free Wi-Fi calls. iPhone users can FaceTime free to another iPhone anywhere in the world as well.
Get Your Travel Documents Right
The U.S. State Department encourages you to sign up for the
Smart Traveler Enrollment Program
before you go. If you happen to have problems or emergencies, like losing your passport, it can help expedite getting a new one. It will also be a way for the Embassy to get important security messages to you, if necessary. Be sure your passport doesn't expire until after January 14, 2015; this is a
passport requirement
of the Brazilian government. Get your Brazilian visa from the Brazilian Consulate closest to where you live. It's usually $160 for Americans, but for the World Cup there is a free temporary visa. 4-Benefits-of-the-Smart-Traveler-Enrollment-Program-STEP.html
Choose Excellent Travel Insurance
World Nomads
offers the best travel insurance out there and is recommended by both National Geographic and Lonely Planet. It's affordable, has great coverage, and the customer service is on point. A U.S. traveler to Brazil can expect to pay $69 for standard coverage for two weeks, or $91.25 for an upgrade that also covers adventure sports and rental car collision coverage. Both policies cover medical and security evacuations.
Have a Backup Plan for Accommodations
It will be difficult to secure a place to stay in the cities hosting the quarter or semi-finals. Also, the U.S. State Department warns that there will likely be hotel shortages and exorbitant pricing in World Cup cities throughout the games.
Airbnb
is a safe and reliable option for making last minute reservations in quarter and semi-final cities; it's also a good alternative in case you arrive at your destination to find that you don't have a room after all, or that it is unsatisfactory. Airbnb is a network of individuals all over the world who rent their rooms, condos, apartments, and houses to travelers. You can read reviews of others who have stayed before you, and contact owners directly through the site.
Be Aware and Stay Safe
There have been many demonstrations objecting to the government's handling of World Cup preparations that have impacted neighborhoods in World Cup cities. U.S. visitors are advised to pay attention to local television for alerts regarding demonstrations and areas to avoid. Tourists are also frequent targets of "Good Samaritan" scams where a person appears to be offering help, but is in fact attempting to take advantage of the tourist. Muggings, pickpockets, and similar crimes occur, so tourists should be particularly vigilant around ATMs and in heavy tourist areas. In Recife, the location of the third U.S. game, robberies happen on the beaches in broad daylight; carjackings have occured anytime day or night. Tourists should also be aware of the criminal use of the drug such as scopolamine, largely limited in use to Colombia and parts of Eucador, but possibly in Brazil due to the influx of tourists. It deprives victims of free will, so they willingly participate in crimes against themselves. It is put in drinks, food, passed from hand to hand on brochures or papers, or blown into the faces of victims. Be aware of your surroundings, and stay in groups when possible. Never leave food or drink unattended, don't accept anything thing handed to you from a stranger, if you are robbed, don't resist, and never, ever agree to bring anything back to the States for someone else; in other words, just use common sense.
Don't become a victim of drugging and mugging
.
U.S. Team World Cup Matches
Here's the inside scoop on the cities hosting the U.S. team in the first three rounds. Enjoy!
U.S. vs Ghana – Natal, Brazil
Natal
, which is the biggest city in the state of Rio Grande do Norte. It is known for its natural beauty, gorgeous beaches, magnificent historical monuments, and the biggest cashew tree on the planet. These are just a few of the splendors you'll enjoy in this city. To get to Natal you will fly into Augusto Severo International Airport, located in Parnamirim, then take a taxi the 11 miles into the city. Once in Natal, get settled into your accommodations, then traveling by bus is the best way to get around. When you're ready to get out and explore the sights, Ponta Negra beach and Galo Church are two must see places. The regional cuisine of Rio Grande do Norte will tantalize your taste buds. Try acaraje, a well-known local dish. French beans are made into a dough, fried, and then stuffed with a number of different foods such as shrimp, minced herbs, okra, and pepper sauce. For the first game between the United States and Ghana, to get to the stadium you will take one of the many buses making the loop to Dunas Arena. There will be special lines that run on match days, as well as minibuses located in five public car parks that offer free transportation to the arena for anyone who has a ticket to the match.
U.S. vs Portugal - Manaus
Manaus
, the capital city of the state of Amazonas. The flight from Natal to Manaus will take approximately three hours and will land at Eduardo Gomes International Airport. Expect taxis from the airport to anywhere within the city to cost about $25, which is about 65 Brazilian Real. Since you will have a few days between the Ghana and Portugal games, you will have plenty of opportunities to take in all the sights of Manaus. Situated in the middle of the Amazon rainforest, this city is surrounded by breathtaking natural beauty teeming with new experiences. Known as the "Heart of the Amazon," visitors can visit indigenous Brazilian tribes and learn about their cultures. An array of plants, birds, trees, and other natural wonders will delight the senses. Be sure to visit the botanical and zoological gardens, the local opera house, and the eco-park. The North is known for its popular Brazil nuts and a variety of delectable fruits, so make sure to have some. For a truly authentic culinary experience, try their traditional Amazonian dish called Pato no Tucupi, a delicious dish made from cassava and duck. The price to get to Amazonia Arena by taxi for the United States vs Portugal game will be similar to the price from the airport into the city. If you want to brave it like a seasoned traveler, there will be several buses running routes continuously between the city center and Amazonia Arena on match days for a mere 2.75 Real. Game time is 6 p.m. on June 22nd.
U.S. vs Germany - Recife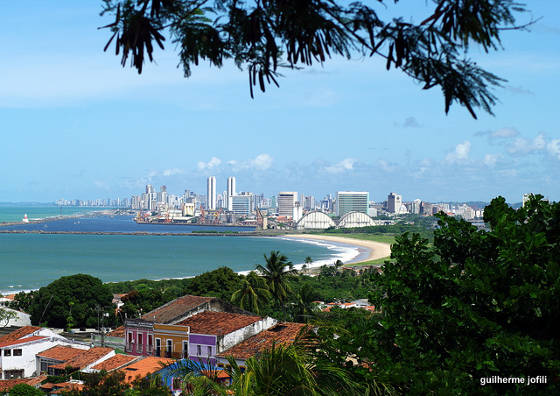 You will be heading back to the Northeast to
Recife
, capital of the state of Pernambuco for the third game between the United States and Germany. The flight is just over three hours and lands at Recife International Airport. Cab ride prices vary according to time of day, and day of the week. To get from the airport to the neighborhood around Pernambuco Arena should cost between $25 to $35, or roughly 65 to 70 Real. Recife has phenomenal beaches; in fact, Playa Porto de Galinhas was awarded best beach in Brazil. The city is a thriving metropolis of beauty, culture, and history. Be sure to visit Sao Pedro Cultural Complex and Saint Benedict's Basilica and Monastery for an appreciation of the cultural depth and breadth of this community. The area is also known for their cheese curd, and Balao de Dois is the perfect dish to showcase their regional cheese. Made with French or green beans, mixed with dried meat, curd cheese, and rice, it's served with traditional bottle butter. Visitors must taste the exceptional local cuisine of Recife! The last game before quarterfinals is United States vs. Germany at 7 p.m. on June 26th. On match days there will also be volunteers guiding people to various train stations that bring them to one of seven bus stations where they will be taken to Pernambuco Arena. If you purchase the round trip World Cup ticket it will cost you 7.50 real for the train/bus combination. If you need emergency assistance at any time during your stay in Brazil, 911 equivalents in Brazil are 190 for police, 192 for ambulance, and 193 for fire. U.S. consulate contacts are in each of the World Cup cities. Be smart, be aware, but don't be afraid, and above all, have fun! Go USA!
Expedite Your Passport Now!
Click to Call for Expedited Service!