Brazil Economy Information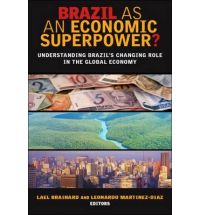 Brazil, the world's fifth largest country in terms of both land area and population, also boasts the world's seventh largest economy. In 2015, Brazil's gross domestic product exceeded $3.1 trillion. The country operates with a free-market economy for the most part.
Brazil's economy
was not always this good. Over the past 20 years, it has witnessed significant improvement. This occurred due to both agricultural and industrial production.
Radical Economic Transformation
Since 1988 when Brazil adopted its current
Constitution
, the government has successfully instituted policies that have allowed the country to overcome severe problems with their economy. Post-World War II inflation had spiraled out of control. Most years the inflation rate was in triple digits. Some years, inflation reached over 1000%. The new government effectively took control of the situation and transformed the country's economy virtually overnight. Today, their economy grows at a rate of 5% per year-- one of the fastest in the world. Despite the worldwide recession, the unemployment rate in January 2016 remained relatively low at 7.6% The government has taken extraordinary measures to establish the country as a major exporter. Brazil exports over 60% of its produced goods.
Agriculture And Food Production
Brazil's economy has an extremely wide base. The country produces many different commodities. Agricultural production is a huge reason for the country's success. The cattle industry in Brazil is booming. The country is a
leading exporter of beef
in the world. Unfortunately, this is coming at a price to the environment. Ranchers continue to clear large sections of the Amazon rain forest to produce cattle grazing pastures. Sugarcane is the second most valuable commodity of the country and a vital source of employment for its citizens. Brazil produces more sugarcane than any other country in the world. Farming soybeans also become extremely popular. Soybean production has increased by 3000% during the last 35 years. Rice is another crucial crop. Modern farming techniques have significantly increased the yield of rice per hectare. Coffee, corn, and wheat are the other commonly farmed foods.
Industrial Production
Brazil has a very business-friendly environment and has attracted a vast range of industries from around the world. The 10 largest automobile manufacturers run factories in Brazil. They have also entered the technology sector. One of their achievements was contributing to the construction of the international space station. Significant Brazilian industries now include auto, aircraft, petrochemicals, steel, and consumer durables. Part of the reasons that Brazil is such a popular location for manufacturing is the abundant supply of products and services that these businesses need. Rich mineral deposits provide the necessary raw materials. Iron, nickel, copper, zinc, uranium, gold, manganese, chromite, and many other minerals are mined in large quantities.
Future Of Brazil's Economy
In 2015, Brazil became the
eighth largest economy in the world
. However, experts have questioned whether or not Brazil can sustain its current policies. Currently, they are working hard to reduce their dependence on foreign oil. They engage in significant deepwater oil research. Other energy sources include hydroelectric power plants and a nuclear reactor. They have only two reactors at this time, with another one slated for completion by May 2018. The country's sole nuclear energy producer Eletronuclear plans to have 19 more by the year 2020.
Recommended Brazil Economy Resources
Brazil as an Economic Superpower?: Understanding Brazil's Changing Role in the Global Economy
This important volume is the timely resource. In 'Brazil as an Economic Superpower?', international authorities focus on five key topics: agribusiness, energy, trade, social investment, and multinational corporations. Their analyses and expertise provide not only a unique and authoritative picture of the Brazilian economy but also a useful lens through which to view the changing global economy as a whole.
60 Minutes - Brazil (December 12, 2010)
Brazil is up and running with jobs, industry, and resources. As Steve Kroft reports, it's still famous for its samba dancing, Carnival, and the beaches of Ipanema, but Brazil is also poised to become the fifth largest economy in the world.
Brazil Travel Resources
Expedite Your Passport Now!