Barcelona Spain
The European City of History, Art and Culture
What does Barcelona in Spain have to offer? The beautiful historic city of Barcelona in Spain was put into the World media spotlight after the Olympic Games were held there in 1992. Since the Games, the popularity of Barcelona as a European destination has steadily increased until the present day. It is now established as one of the leading European cities for art, history and culture.
Where is Barcelona?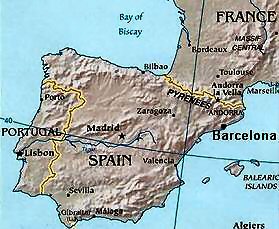 Barcelona is cradled in the North Eastern Mediterranean coast of mainland Spain, about 2 hours drive South from the French Pyrenees. It's the capital of Catalunya, a region of Northern Spain that has its own unique culture, traditions and personality.
Barcelona City is one of a kind
Few European cities can offer you the wide diversity of cultural experience that you'll find in Barcelona. Couple that with the luxury of 4.2 km of beach only a short walk from the city centre, and warm sunshine most of the year, you have all the makings of a great holiday in Spain.
A city of modern art and Modernist architecture.
Many great painters and artist worked in Barcelona at some time and their influence is still evident throughout the city. Two of which are Picasso and Miró who have museums dedicated to some of their most important works. There are also 55 other museums and art galleries dotted all around the city so you'll always have plenty of art to experience whilst there.
Beaches on your doorstep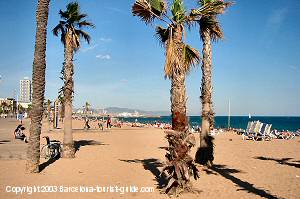 Should you ever find yourself suffering from art and culture overload, you can spend the day recovering on one of Barcelona's sandy beaches only a short stroll from the city centre. Order a sangria at one of the bars and kick of your shoes, sit back and soak up the sun, sea and the view.
Cuisine in Barcelona Spain
While you're on the beach you can sample some of the best seafood the Mediterranean has to offer, or if you prefer, there are plenty of excellent restaurants and bars that offer tapas. (Small tasty bite-size dishes of Spanish food). There are also many restaurants providing more conventional dishes if you prefer a traditional meal.
Architecture of Barcelona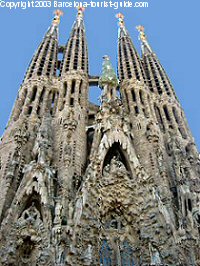 Barcelona is home to masterpieces of many great architects. The most famous of which is Antoni Gaudi. Gaudi's work is admired by architects around the world as being one of the most unique and distinctive styles in modern architecture. One of Gaudi's most famous works is La Sagrada Familia, a giant Gothic Cathedral that has been under construction since 1882 and won't be completed for another 80 years.
The Barcelona Shopping Experience
There are approximately 35,000 shops in Barcelona city centre. Most of the main shopping areas are in pedestrianized zones with wide open boulevards. This means you can wander from shop to shop without worrying about dodging the traffic. Another big plus is that your money will take you roughly twice as far in Barcelona than it will in London or Paris. You can purchase fine European designer labels at a fraction of the cost and if you are from outside the European Union you can claim back the tax on your purchases.
Is Barcelona Spain the holiday destination for you?
If you're looking for a holiday in a city filled with history thousands of years old, art and culture but would also like to lie on the beach when you want to take a break, Barcelona can offer you all that and much more. This Barcelona tourism article was written by Dr John Bolton of
http ://www.barcelona-tourist-guide.com
. Plan ahead and guarantee your spot at some of the most popular
tourist attractions in Barcelona
,
Spain
.
Barcelona Travel Resources
Compare rates and read reviews of over 1400 hotels in Barcelona
List of the most popular Barcelona tours
Expedite Your Passport Now!