Airport Security Checkpoint Expert Tips
No matter what your destination is, if you travel by air, you are likely to face airport security lines. If you want to get through those lines like the frequent flyers do, there are a few guidelines that will reduce the wait times and make it easier for you and everyone around you. Think ahead, so you're not doing all of this just as you get to the head of the line.
Empty your pockets of loose change. Wallets and cell phones should go into one of those little bins they provide also. Heavy watches, bracelets, and belt buckles can set of the alarm, so take those off, and stow them in your carry-on bag before you get to the front of the line or put them in the bins.
Consolidate books and snacks so you won't have as many things to gather once you've been screened.
In the United States, the procedure requires you take your shoes off. Slip-on shoes will come off and go on faster. Zippers and laces will slow you down. Have your shoes untied or unzipped before you get to the front of the line. (Take care when you put them back on that you don't trip before you're put back together!)
Have your one quart/one liter plastic bag with your liquids, creams and gels out of your carry-on, and put it in a bin. Each liquid should be 3 ounces/100 ml or less, right? There shouldn't be any loose liquids in your carry-on bag. If you have "medically necessary" liquids or baby food, in most countries, those can be outside of your plastic bag allowance, but you must notify a screening officer.
Have a plan when you put things into bins on the screening belt. If you put things through the screening in the right order, you'll be able to put yourself back together faster afterward. Here's a good way to do this.
First put your shoes, coat and your carry-on "personal item" (usually your smaller bag) in the first bin. They will come through the x-ray first, and you can be putting them back on while you're waiting for your other items to be screened.
If you're carrying a computer, put your carry-on bag for your laptop in the bin ahead of your computer, then when your computer comes through, you'll have the laptop bag ready to slip the computer right into it.
If it's going to take you a long time to put your shoes back on, collect all of your belongings and move to the side so the line doesn't get jammed up. There are usually a few chairs against a wall nearby where you can sit down and put yourself back together.
Youwill annoy your fellow travelers AND the screening agents if you stand there and try to put those shoes on.... leaving your bin on the screening belt with others backing up behind yours. Airports report that almost half of all security checkpoint bottlenecks are caused by people putting themselves together after screening without moving to the side.... don't let this be you!
You're going to read this, and next time you travel, you're going to move through that security checkpoint with a plan and they'll think you're an expert traveler no matter whether you travel often or not.
Airport Security Checkpoints ID Requirements
Adult passengers (18 and over) are required to show a U.S. federal or state-issued photo ID that contains the following: name, date of birth, gender, expiration date and a tamper-resistant feature in order to be allowed to go through the security checkpoint and onto their flight.
Passengers who do not or cannot present an acceptable ID will have to provide information to the Transportation Security Officer performing Travel Document Checking duties in order to verify their identity. Passengers who are cleared through this process may be subject to additional screening. Passengers whose identity cannot be verified by TSA may not be allowed to go through the checkpoint or onto an airplane.
Acceptable Identification Documents include:
U.S. Military ID (active duty or retired military and their dependents)
Border Crossing Card
Enhanced Drivers Licenses or other state photo identity cards issued by Department of Motor Vehicles (or equivalent) that meets REAL ID benchmarks (All states are currently in compliance)
An airline or airport-issued ID (if issued under a TSA-approved security plan)
A foreign government-issued passport
Canadian provincial driver's license or Indigenous Services Canada (ISC) status card
Transportation Worker Identification Credential (TWIC)
Non-US/Canadian citizens are not required to carry their passports if they have documents issued by the U.S. government such as Permanent Resident Cards. Those who do not should be carrying their passports while visiting the U.S.
This standardization of the list of accepted documents better aligns TSA with other DHS components, including Customs and Border Protection, and REAL ID benchmarks.
Airport Security Information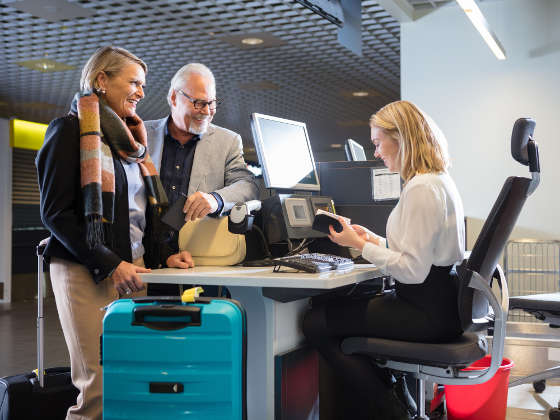 Don't let tightened airport security get you uptight. There are ways to avoid problems and reduce your wait time at the security checkpoint at the airport to ensure you don't miss your connection.
Before Arriving at the Airport
Do not pack or bring Prohibited Items to the airport. Read the Permitted and Prohibited Items list.
Place valuables such as jewelry, cash and laptop computers in carry-on baggage only. Tape your business card to the bottom of your laptop.
Avoid wearing clothing, jewelry and accessories that contain metal. Metal items may set off the alarm on the metal detector.
Avoid wearing shoes that contain metal or have thick soles or heels. Many types of footwear will require additional screening even if the metal detector does not alarm.
Declare firearms & ammunition to your airline and place them in your checked baggage.
If you wish to lock your baggage, use a TSA-recognized lock.
Do not bring lighters or prohibited matches to the airport.
Do not pack wrapped gifts and do not bring wrapped gifts to the checkpoint. Wrap on arrival or ship your gifts prior to your departure. TSA may have to unwrap packages for security reasons.
At the Airport
Each adult traveler needs to keep available his/her airline boarding pass and government-issued photo ID until exiting the security checkpoint. Due to different airport configurations, at many airports you will be required to display these documents more than once.
Place the following items IN your carry-on baggage or in a plastic bag prior to entering the screening checkpoint:

Mobile phones
Keys
Loose change
Money clips
PDA's (personal data assistants)
Large amounts of jewelry
Metal hair decorations
Large belt buckles

Take your laptop and cameras OUT of their cases and place them in a bin provided at the checkpoint.
Take OFF all outer coats, suit coats, jackets and blazers.
Following the tips above should help you get through the aiport security checkpoints with greater ease.
Related Travel Safety and Airport Articles
Travel Warnings & Alerts
Airport Security Scans
What to Do during Long Airport Layovers