A Fabulous Day Trip to Ein Gedi Spa at the Dead Sea
by Bruce
(Israel Travel Secrets)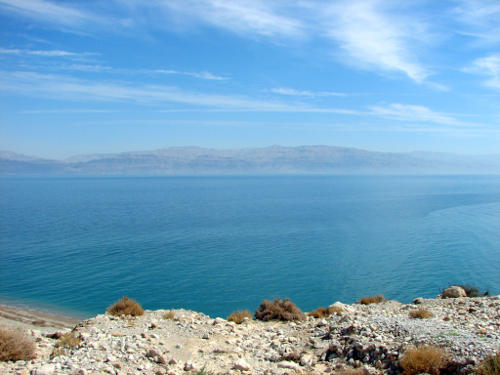 Nominated as the
7th Wonder of the World, the Dead Sea in Israel
is the lowest point on the planet at 1,388 feet below sea level.
Known locally by its Hebrew Name Yam Hamelach or translated literally Salt Sea, it is really not a Sea at all but a large lake. It is not just any lake but the deepest hyper-saline lake in the world.
Pretty interesting, but why Dead Sea and not just salty sea? Simple, because no living organism can survive in there. Ok, so why would you even think of going there?
For thousands of years, the minerals (Dead Sea Minerals) found in the black mud of the sea bed have been used as a healing agent for anything from Psoriasis to Arthritis and other inflammatory conditions.
In fact, there is ample evidence that swimming (it is impossible to actually swim) or I should say dipping in the Dead Sea can reduce wrinkles by as much as 40%. A modern day fountain of youth you might say. Well, stands to reason that more than a million visitors flock to this area annually from all over the world.
This past summer I spent a month in Israel with my daughter traveling all over the country. Not our first visit by any means. We actually lived there for a few years. Therefore we are quite familiar with the country. I would like to share with you an especially awesome one-day trip we took to the Ein Gedi Spa and Bokek Stream (Nachal Bokek in Hebrew) at the Dead Sea.
An easy one hour drive from Jerusalem (only about 24 miles) or in our case three hour drive from where we were staying in Israel's Northern Region; a town called Zichron Yaachov, it is possible to spend one satisfying day at the Dead Sea (I recommend more if you have the time).
Starting out relatively early in the morning (My 16-year-old daughter thinks 9:00 is too early), we arrived first at Ein Gedi Spa at around noon. I recommend planning to arrive no later than 10 or 11 if possible. Ein Gedi, also referred to as the oasis of Ein Gedi, is actually a Kibbutz (communal farming community) with a rich mineral spa located on the grounds located in the northern part of the Dead Sea basin.
The drive is normally quite easy as there are multiple routes entering the area from the North and South. The final descent into the basin is magical in itself and a great photo opportunity. As you descend down the winding roads through the desert mountain landscape, you notice a blue/green flat area in the distance. That is the Dead Sea and the rolling mountain backdrop are the Jordan Mountains in Jordan. You will also notice markings on the mountainside as to the elevation.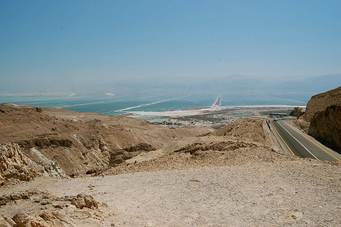 View of the Dead Sea
Finally, we arrive at our primary destination the Ein Gedi Spa. There are other options for entering the Dead Sea such as Ein Bokek, but I recommend this one because it is a clean full-service spa with a restaurant located right on the premises. When you enter the spa, they offer different packages that include entry fee, natural hot springs pool, towels, massage and other spa treatments, lockers, and lunch. We usually get the basic silver package that includes everything but the massage for about 775 Shekels or $200.
The first order of business is to change into a bathing suit, then head into the sulfur springs pools located next to the locker rooms. It is a good way to unwind after the long car ride.
Secret Tip #1:
I strongly recommend you use an older bathing suit or one that you don't mind throwing away because the strong sulfur smell is almost impossible to remove from your bathing suit.
Secret Tip #2:
Leave everything but the camera in the locker.
You don't need cash and I definitely recommend removing all jewelry (My wedding band stays on per my wife's request). The minerals of the Sea and the Sulfur pools play havoc on some precious metals.
After the pools, it is time to head outside to the "mud pit". This is where they have large vats filled with black dead sea mud that you can apply to your entire body. You will resist at first painting it on your face but go for it. Your complexion will thank you later. This is the fun and often amusing part. You are not supposed to sit in the chairs with mud but nobody really minds.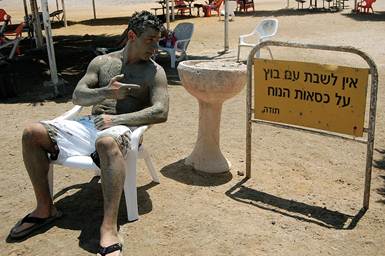 The sign reads "Don't sit with mud"
Secret Tip #3:
Do not get the mud in your eyes under any circumstances. Be aware that there are fresh water outdoor showers in the area. Know where they are.
After you let the mud bake in the sun and dry onto your skin until it feels tight, you can rinse off in the showers. There are both fresh water and sulfur showers. Be careful as the sulfur will burn your eyes. I always keep a towel nearby just in case.
Now, at last, onto the Dead Sea beach. Since the Sea has actually receded significantly in the last several years due over-usage of the Jordan River that feed it, you need to walk about ½ mile or take the free tram to get there. It is interesting along the way you will notice signs posting the water level at different years like a physical timeline. It is an unsettling site. There is a serious concern that the Dead Sea will someday dry up completely.
Here it is....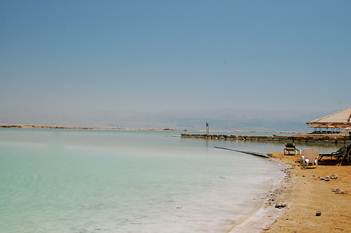 As you enter the water, it feels somewhat slippery or oily. That is the high salt and mineral content. It is about 10x as salty as the ocean. When you get in far enough, go ahead and lay back. YOU WILL FLOAT!. Look up at the sky and the surrounding mountains and you are bobbing effortlessly in the Sea. It is the ultimate experience.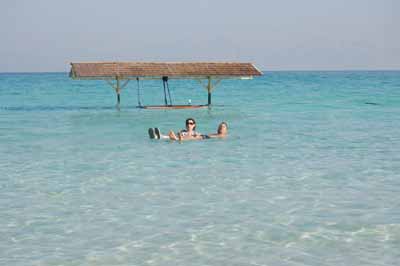 Secret Tip #4:
Do not let the water into your eyes or even your wet fingers. Trust me on this one. Also don't be surprised if you have any open cuts or sores that will start burning.
Secret Tip #5:
Wear some type of water shoes as the the sea bed is comprised of very sharp Dead Sea Salt crystals.
Usually by this time, it is time for lunch in the cafeteria. The food is tasty and better yet included with the cost of entry. After lunch, I recommend lounging outside by the pool for the remainder of the afternoon or pampering yourself with a full body massage. There is a large lawn area where you can spread out on a blanket or lounge chairs. Perfect for an afternoon nap.
Try to leave at least two hours before sunset as I have another fantastic destination for you to complete the day. If you are up to it, I recommend a hike in the
Nachal Bokek
.
Just a few words about me; about a year ago, I decided to create a very unique website with a few of my colleagues living in Israel called Israel Travel Secrets. Based upon our passion for the country as well as our knowledge and first hand experiences living there, we felt we had something unique and valuable to offer both first time and experienced travelers to Israel.
That 'unique something' is a view of the country from a local perspective. Specifically, our gift to first time visitors are the top recommendations or insider tips (the true secrets) on everything from how to get there, what to do, where to eat, and of course where to stay.
Bikur Na'im ! Have a great visit
Bruce Altchouler
Israel Travel Secrets -
www.israel-travel-secrets.com
Requesting express service at post offices and other facilities that accept application forms from U.S. citizens.
Where processing centers are located. How to schedule an appointment. What documents to take with you.
How to pick a legitimate courier service company to assist in getting your passport quickly.
Guide to help you decide if standard or fast track processing is the best option for your situation.
Learn to expedite passport renewals as quickly as the same day. Where and how to renew passport in a hurry.