A Day in the Life of a Tourist in San Juan
by Logan B.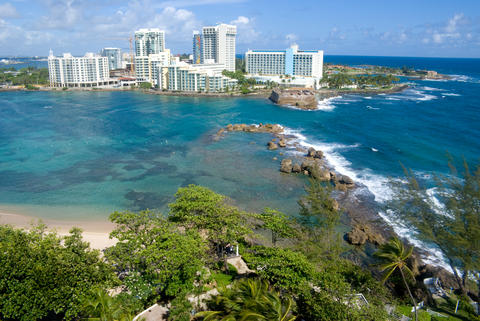 You wake up at your resort and look at the stunning view of Condado Beach. Even though it's early, children are already playing in the sand. The waves have been awake all night, and they're still going at full speed. You walk down to the lobby of your resort, and the aroma of coffee immediately invigorates you. You grab a plate of eggs and mallorcas. You've never had mallorcas before and are astounded by how delicious these pieces of bread covered in powdered sugar are. You wait for your travel companion to meet you in the lobby. She comes down wearing a sun dress and ready to join you for a day of fun.
Once you both finish breakfast, you head to Paseo de la Princesa, a famous esplanade in what's considered Old San Juan. You walk down the street and look at the beautiful 19th century Puerto Rican architecture. The leaves of the palm trees that line the long street rustle in the wind and make you feel calm. Local artists have set up their canvases and are painting somber yet hopeful scenes of Puerto Rican life. A stray cat follows you and your travel companion and brushes against your leg when you stop to look at an old church. You wish you had brought your sunscreen. The sun beats down against your skin. You're happy.
You grow tired of walking and jump in the backseat of a Taxicab. You ride to the Museo de Arte de Puerto Rico. The cab driver chain smokes cigarettes and tells you about his ten-year-old son. "He's so bright," he says. Feeling generous, you give the cab driver a big tip. You saunter into the museum, not sure what to expect. A tour guide greets
you and offers to give you a comprehensive tour. You and your travel companion decline. You go into the many rooms of the museum and look at Puerto Rico's best artwork. You stop at one painting by the famous Puerto Rican artist, Campeche. It's a portrait of a child with no arms and no legs. Something about it deeply moves you. You grab a late lunch at the restaurant attached to the museum and order the Asopao, a chicken and rice soup that puts all other chicken soups to shame.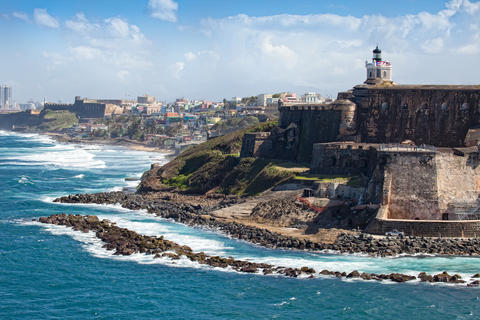 When you arrive at El Morro, your head is still spinning from all the artwork. You sit down on the grass and look at the fortress that was built in the 17th century to defend San Juan from the ocean's temper tantrums. You and your travel companion talk about life back home. The work, the movies, the politics. The wind blows harder. A cool front seems to be coming in. You decide to head back to the resort.
You grab some drinks, get the sunscreen from your hotel room, and head out to the beach. You play in the clear blue water, splashing each other like kids. You go back to your towels and dry off. A group of tourists approaches you and strikes up conversation. The sun begins to set as you talk about the best places you've traveled. You all unanimously agree that San Juan is one of them. You grab dinner at the resort, some pork and rice dish you didn't quite catch the name of. You feel full, tired, and content. Tomorrow you will head back home on a
private jet
.
Ready to plan your trip? Click the link for great deals on the
top Puerto Rico tours
.
How to get an emergency passport renewal in the U.S. or abroad. Discover the steps to renew your passport the same day.
Learn to expedite passport renewals as quickly as the same day. Where and how to renew passport in a hurry.
Use the online Passport Photo Wizard tool to make your own passport photos in minutes. Save money and time.
Watch step-by-step instructional passport videos of how to renew a passport in 3 steps.
Jet lag is almost certain if you travel across several time zones. Discover how to minimize the effects of jet lag for every age group and ensure a more rewarding family trip.