Exchanging Money for International Travel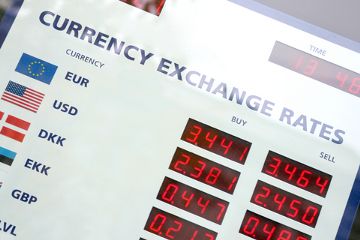 You're going abroad, and you'll be exchanging money. What is the best way to do that? The short answer is to use the ATM. REALLY! Almost anywhere in the world now, you'll find ATMs. Almost. Try to check ahead before you go to know whether to take cash, traveler's checks, ATM or credit cards. Traveler's checks aren't used all that much anymore, but they're a good backup in case something goes wrong with the credit cards and ATMs.
If you can't get money out of a cash machine, it doesn't necessarily mean there's a problem with YOUR card. Those electronic transactions have to be submitted and approved, there may be communications problems in less developed counties; their readers might not read your card; or (and this has happened) the bank ATM has run out of money! You may hear that exchanging money -- at least a little -- before you travel is a good idea. That's not necessary. There are almost always banks or money changers at the airport, and ATMs are everywhere.... well, almost everywhere. There are a few countries that won't accept ATM cards from certain other countries. You do need to check this out. You can find out in government advisories about each country. If you're going to drive across the border to a country with a different currency, you should check to see where you can change money and if they'll take some other currency, like that of their neighbors or Euros or Dollars. If you think the exchange rate is going to change dramatically, and you'll get a better deal exchanging money ahead... you might want to give it a try. It's hard to time those money markets though. Another reason for exchanging money before you leave is if you want to familiarize yourself with that funny looking currency. Even if you wait to change money on the road, do try to familiarize yourself with the local currency so you don't fumble too much with it. If you change your money once you get to your destination, it's best to familiarize yourself with it in the privacy of your hotel room and not in public. You will fumble. Sometimes those little coins will be worth a dollar or two or five.... or that 10,000 "Whatever" note could be worth about five dollars! So try to get a rough idea of what those coins and bills are worth. We've found that most people are helpful sorting out the right change, but you should always be on guard for a scam artist that might try to charge you too much because you can't figure out how much you're paying fast enough. If you're exchanging cash, change money only at reputable or official locations. Black market money exchanges could get you in trouble at worst or be scams where you'll lose money. If you do change money at money exchangers, compare the exchange rates and commissions carefully. ATMs are much more straight forward. You should avoid buying more foreign currency than you actually need. You will lose money if you need to convert back, and some countries restrict the amount of their currency they permit you to take out when leaving the country. If you are traveling on a prepaid tour, you won't be exchanging money as much. Also, you may be able to pay bar bills at lodges and hotels in dollars or with your credit card. So check ahead, take credit cards, ATMs and travelers checks and don't worry, you'll find plenty of places to change them.
Expedite Your Passport Now!