6 Popular Destinations That Require Entry Visas of American Citizens
So your vacation leave is finally approved. What you have in mind is an out-of-the-country trip. Before you start a planning the minute details of your trip, you have to decide on a destination and whether or not you'd need a visa for entry. Once you have this information, you can launch a full-blown trip planning. There are a lot countries that
allow entry to Americans visa-free
or issue them upon arrival. You're quite lucky if you are planning to visit any one of these countries. But if you are looking to lie the sun-drenched shores of Brazil, experience the rich culture of China, see the Taj Mahal in India, explore Red Square in Moscow, Russia, feast on the delectable food of Thailand for a couple of months or get bewitched by the charms of Vietnam, be prepared to with the necessary documents. These are the six most most popular destinations among the 97 countries that U.S. citizens need a visa to gain entry.
Brazil
Baía de Guanabara, Rio de Janeiro, Brazil
Being the fifth largest country in the world definitely has it perks.
Brazil
is a beautiful South American nation that is bursting at the seams with interesting attractions and landmarks, unique culture, and amazing beaches. Much of the population speaks Portuguese as does most people in Latin America. Brazil is famous for the outrageously merry Carnaval in
Rio de Janiero
, Olinda, Recife and Salvador. And then there's the mysterious Amazon Rainforest and the great Amazon River which together hold the world's most diverse flora and fauna. The fabulous beach life of Brazil is also something many have fallen in love with. Brazil is also home to some of the best soccer teams in the world. A
Brazil tourist visa
is valid for 90 after issuance and the length of permitted stay can be as long as 120 days with multiple entries. Visa applications by mail are not honored by the Brazilian consulate; you need to process it yourself or seek the help of a friend, visa expediter or travel agent to obtain one. A completed visa application, valid passport with a recent photo and round trip tickets are needed when applying for a visa to Brazil.
China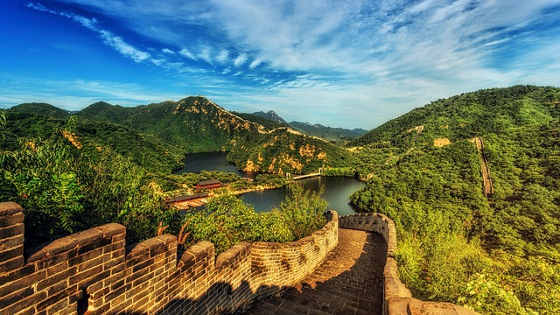 Great Wall of China
The
People's Republic of China
is a vast country that offers a welcome barrage to the senses. Mainland Chinese communities are deeply immersed in their ancient culture and to experience this would be very rewarding. Chinese cuisine may not be something new to the American palate due to the great number of take-out restaurants but to sample authentic Chinese delights in its purest forms is something else entirely. Aside from the Great Wall of China, there are other places and things that should not be missed during a visit. The Spring Festival or the Chinese New Year which usually happens in mid-February is one of the biggest events in the country. Nian gao (sticky cakes), lion/dragon dances, street parades and fireworks are just some of the highlights. A
China visa
is required for entry into Mainland China and these must be applied for in person at a Chinese embassy. Visa expediters can also assist in the process and so can friends or relatives. Travelers passing through China on their way to other countries are allowed a 12-hour visa-free stay; other places may allow as long as 48 hours for a flight layover. Most Westerners do not need a visa to enter
Macau
and
Hong Kong
.
India
Colorful Holi Festival
India
and its multifaceted culture has drawn millions of tourists from all over the world. It is not just the Taj Mahal that attracts the traveler, it is also the wonderful food, rich culture, ancient religion and traditional healing methods. Interesting art and architecture can also be found everywhere in this vast country. Getting photographed with the beautiful Taj Mahal in the background makes the top of the
list of things to do in India
. Another potentially rewarding activity is immersing yourself in the Hindu culture; majority of Indians practice Hinduism and there is no better way to know them than to know their core values and traditions.
Tourist visas to India
are valid for six months with multiple entries. However, should you exit the country, you would have to wait for two months before re-entry unless you have secured a special permit. It would be smart to apply for a multiple entry visa should you decide to visit a neighboring country and get back in before heading for home.
Russia
Russia Church
Russia, the largest country in the world is an intriguing destination.
Moscow
, its vast capital, welcomes millions of visitors annually. It would be hard to see all of Russia in one trip so it would be smart to choose a city of interest and experience the best it has to offer. Moscow's heart, the Red Square should not be missed. For one thing, it is home to the Moscow GUM, one of the most architecturally stunning shopping malls in the world. Also on display in a mausoleum within the square is the embalmed body of the famous Russian leader Vladimir Lenin. The St. Basil Cathedral and the Kremlin Walls are also very popular landmarks within the square. All U.S. citizens wishing to travel as a tourist must
secure a visa to Russia
in a valid passport. Visas can be obtained from a visa outsourcing service. Aside from the usual requirements, you would need to secure a letter from your travel agency detailing your flights and itineraries. A tourist visa will be valid for 3 years with multiple entries from date of issuance. Russia will open its doors to the world visa-free during the FIFA World Cup in 2018.
Turkey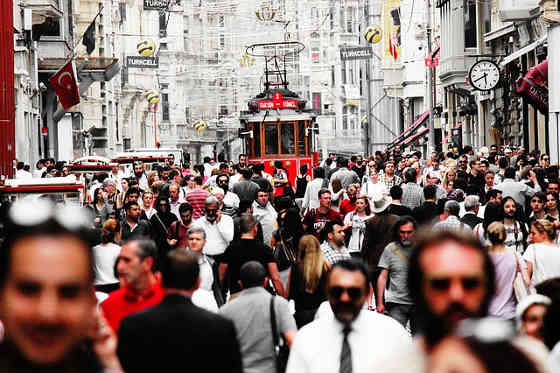 Large crowd in the streets of Istambul
The
Republic of Turkey
is just slightly larger than the state of Texas. Like Texas, different regions have very distinct cultural aspects and climates while still maintaining much in common with one another.
Istanbul
, the former capital of the Ottoman and Byzantine Empires and the largest city in Turkey, has the distinction of being the only city in the world to straddle two continents. Due to it's long history, there are
numerous historical and religious monuments to visit in Istanbul
. Among the most recommended are the Blue Mosque(Sultan Ahmet Camii), Green Mosque (Yesil Camii), Green Tomb (Yesil Turbe) and the Dolmabahce Palace (Dolmabahce Sarayi). The Egyptian Spice Market and Bosphorus Cruises are also favorites of tourists. Ankara, the capital of Turkey and it's second largest city, has many mosques and museums that are worth seeing. Want to visit incredible historical and religious sites while also enjoying beautiful beaches. Then, head to Antalya, one of the hubs of the "Turkish Riviera" and the largest city on the Turkish Mediterranean coast.
Vietnam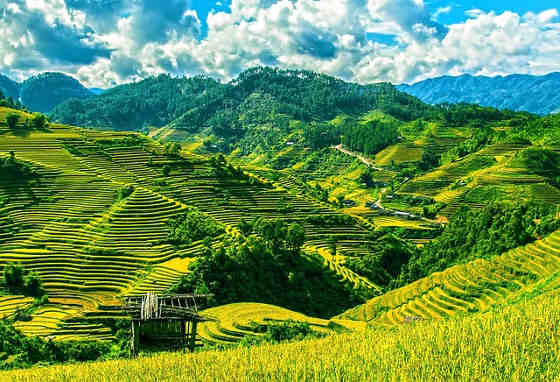 Rice Terraces of Mu Cang Chai Vietnam
The Vietnamese will probably be some of the most welcoming people especially to Americans. Years of American aid and the notorious Vietnam War has made the people more inclined to the westerners. Ho Chi Minh City, once known as Saigon, is the largest and busiest cities in the
Vietnam
. The central part of the city is still referred to by many as Saigon and is where most tourists go. Hanoi, the capital city, is also interesting to explore. It has plenty of places of interest for history buffs and those interested in architecture. It is also a great place to sample authentic Vietnamese cuisine which can be found in hole-in-the-wall restaurants rather than the high-end ones. U.S. citizens must
secure a visa in order to enter Vietnam
. A tourist visa may be valid for 30 or 90 days upon date of issuance; a visa may be have single or multiple-entries but arrival and departure dates must be specified.
Expedite Your Visa Now!