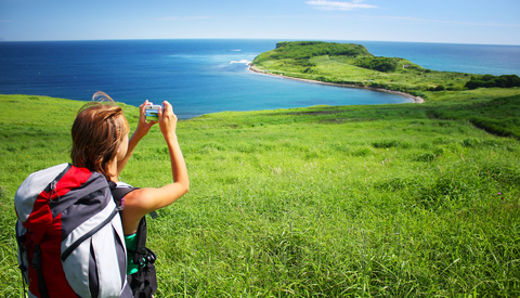 5 Trips Every Woman Should Make in Her Lifetime
Time and again, it has been proven that people who spend their money on experiences are generally happier compared to people who spend their money on material possessions. Traveling is unarguably one of the best ways you can spend your hard-earned money. It's not only a great way to give yourself a much-needed break, it also pushes you to go out of your comfort zone, introduces you to new cultures and allows you to see the world in a different perspective.
That being said, every chance you get to go on a vacation, don't hesitate to take it! It's your once-in-a-lifetime opportunity to discover yourself and fall in love with a new place altogether. Just keep in mind that traveling is a big purchase decision and one that you may need to plan ahead of time -- so put your heart into it and make sure you're also ready for it financially. Here are five trips every woman should take in her lifetime:
Travel solo. It may sound lonely and completely nerve-wracking but most women who've traveled alone swear it's a very fulfilling experience. Whether you've always wanted to see the magnificent temples of Cambodia on your own or feel like imitating Elizabeth Gilbert's journey to find herself after a traumatic love affair gone wrong, go for it. Not only will this allow you to put focus on yourself, this is the perfect time for you to confront your fears of meeting new people and eating alone. You'll be surprised to know a lot of people are in the same boat as you are, so wouldn't it be nice to "travel alone with other people"?
Getaways with your girlfriends. Nothing spells fun than having to bask in the sun or explore a new city with people you enjoy spending time with. It's considerably like hanging out, but in a new and different environment. You wouldn't be paranoid about getting lost or being unable to understand a foreign language, because you're in the company of people you're most comfortable with. Take note that your misadventures and crazy nights also make for good stories that you wouldn't mind laughing abou, even after years from now!
A trip to tick off your bucket list. Most of us have goals that require learning a new skill, conquering a big fear or taking a journey somewhere. What's that one thing you've always wanted to do? Do a yoga retreat in Bali? Learn to cook in Tuscany? Swim with the sharks in Bahamas? Just do it -- it's a cliché that requires no explanation after all.
A romantic escape with your lover. Whether you prefer to climb the Machu Picchu, enjoy a gourmet dinner under the African sky, or get cozy in Hotel Plaza Athénéé in Paris, an adventure with your significant other always makes for an exhilarating and intimate experience. This will be a timely opportunity for the both of you to create beautiful memories together. This will also be an opportune time for you to get to know each other. Just don't forget to agree on your itinerary, so there would be no unnecessary fights and bickers along the way!
A spontaneous adventure. If you find yourself waking up to the thought of an epic road trip, just wing it! Everyone needs to be a little spontaneous once in a while. You don't owe yourself any explanations. You deserve to have some fun.
If you haven't crossed out anything on this list, you better double time. If you want it bad enough, you can make it happen. Always remember, life awaits the adventurous!
Expedite Your Passport Now!