Five Alternative Accommodations Offer
a Welcome Change to Hotels and Resorts
There is more to accommodations that just hotels and resorts. While these make up for the bulk of lodging choices, there are some interesting alternatives that can help turn your travels into more memorable experiences. Let's take a brief look at the pros and cons of five alternative accommodations that are becoming more and more popular with each passing day.
Apartment
Contrary to popular belief, apartments can be rented for as little as one night. While providing greater physical space, a fully-equipped kitchen and a "home away from home" atmosphere, the cost of a serviced apartment can be as much as 15-30% less that an equivalent hotel. While staying at a serviced apartment has some advantages, finding one for many travel destinations is not that easy. The best place to start is
Booking.com Serviced Apartments Listing
.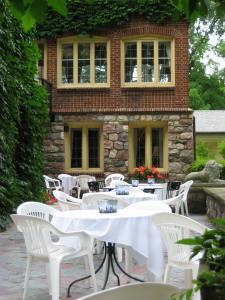 Bed and Breakfast
Cozy is the perfect word to describe a bed and breakfast establishment. Usually, bed and breakfast owners live on the premises and, therefore, offer a personal touch to your lodging experience. Just ask and you'll pick up some helpful tips on places to see and things to do. While most bed and breakfasts cater to couples, there are a few that accept children and allow pets. There are many romantic bed and breakfasts and even a few "haunted" ones.
Castle
Staying in a castle is a unique and unforgettable experience. Walk the halls of these fantastic structures that are thousands of years old and imagine yourself among kings and queens, dukes and duchesses. Castle accommodations are usually not cheap but you can sometimes find a good deal. If you have the opportunity, it is definitely worth cutting back on other expenses to have this experience.
Dude Ranch
Experience the Old West on a Dude Ranch vacation. While you'll get hands-on experience in such ranch activities as cattle drive, hayride, cook-outs and horseback riding, many ranches offer a lot of the amenities and comforts you would find at a nice hotel. You can play golf or tennis, swim in the pool and relax in the hot tub or sauna. Of course, if you really want to "rough it", you can find dude ranches with far less amenities and far more authenticity. Accommodations at a ranch house can vary. Some only offer a room in the main house where all guests stay. Others offer a separate cabin for each family. Of course, the latter is more expensive.
Home Exchanges
Home exchange programs have experienced exponential growth over the past few years. It's no wonder with the many benefits a home exchange offers. You get a home instead of a room and a yard instead of a lobby. Better yet, there are no rental fees. Your accommodations are practically free. I say "practically" because you will have to allow complete strangers to stay in your home in exchange for the right to stay in theirs. In addition, most home exchanges include car swaps. There is no need to rent a car. The savings for some has been as much as $2000. You can read a more detailed description of home exchanges in our report
Travel More for Less
. (Right click the link to save the report.) One of the most popular home exchange programs on the internet is
Home for Exchange
. They have been called the eBay of home exchange by Travel & Leisure magazine. Visit
Home for Exchange
for more information.
Expedite Your Passport Now!