4 Ways to Experience the Best of Jamaica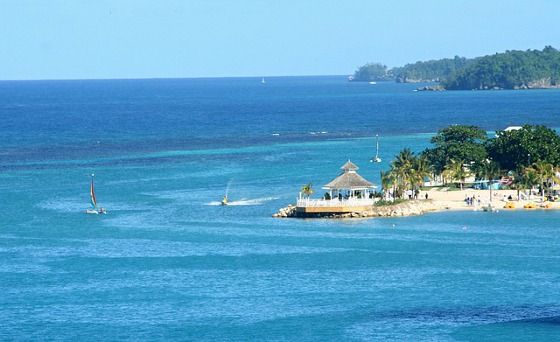 Summer is a great time to visit Jamaica; the season offers some of the best deals of the year. From Montego Bay to Negril, Ocho Rios to Treasure Beach,
Jamaica
has no shortage of interesting playgrounds. The ways to experience the friendliness of the island are limited only by your own imagination. These four possibilities will get you thinking. Try the classic all-inclusive holiday, opt for a romantic couple's getaway, go for an authentic off the beaten path experience, or set your sites on an altruistic vacation that makes a difference. Rest, Mon! There's no way to get it wrong.
Indulge in the Classic All-Inclusive Resort Vacation Near Montego Bay
A dream vacation to Jamaica conjures visions of all-inclusive resorts where the only decision you have to make is sun or shade. Jamaican-inspired cuisine prepared by an award-winning chef, a plethora of complimentary activities, and the happiest of happy hours are all part of the fun. All-inclusive resorts are a luxurious way to experience the island worry free. With all the details taken care of, you can live in the moment and enjoy Jamaica to the fullest. Rated among the best of the best all-inclusive resorts in Jamaica, Round Hill Hotel and Villas is the place to be. The resort, located west of Montego Bay, is
rich with history
. Honeymoon in Villa 10, where John F. Kennedy and Jackie Kennedy also honeymooned so long ago. Get your groove back in Villa 11, once the set of steamy love scenes in the movie How Stella Got Her Groove Back. Draw your musical inspiration from Villa 12, where Oscar Hammertstein imagined The Sound of Music after meeting Maria von Trapp. Lounge on the same private beach as Bing Crosby, Adele Astaire, and Paul Newman. Your platinum all-inclusive vacation at Round Hill Hotel and Villas includes transfers from the airport and starts off with a bottle of wine, a gift, and a fruit basket upon arrival. All the delightful food and drinks you can handle, nightly entertainment, access to paddle boats, snorkeling equipment, the resort's glass bottom boat, and every other imaginable amenity is yours to enjoy. Round Hill also provides a traditional bamboo raft ride down the Great River to experience the lush beauty of the Jamaican rainforest.
Get the Sparks Flying with a Romantic Getaway in Ocho Rios
When you're in the mood for love, Jamaica is your romance destination. A tropical island with lush foliage and fragrant flowers, sparkling waterfalls cascading into pristine pools, and gentle waves lapping at white sand beaches, provides the ideal backdrop for a romantic getaway. Whether you are looking for the perfect wedding location, a private honeymoon hideaway, or simply a secluded place to slip away and reconnect, Jamaica has boutique hotels that cater to the romantic in you. Couples San Souci is located in Ocho Rios on Jamaica's emerald coast. The secluded cliffside resort is adults only and offers ample opportunities for your love connection, from private cabana couples' massages to intimate candlelit dinners to the rhythms of a double hammock in the early evening breeze, Couples San Souci has you covered. Share the view of the Caribbean Sea as you lounge on your large colonial-style balcony in cozy bathrobes with a glass of wine and your favorite music playing on the room's state-of-the-art entertainment sound system. The opportunities for romance are endless at Couples San Souci. Besides the many resort amenities -- the restaurants, bars, pools, Jacuzzis, natural mineral spring pool, and more, Couples San Souci also offers several complimentary off-site excursions including Dunn's River Falls, a shopping shuttle, scuba diving, a glass bottom boat ride, a sunset catamaran cruise, and a trip to Margaritaville. At Margaritaville, you can also book
zip lining the rainforest
,
trekking Mystic Mountain
, or
swimming with dolphins
for a small fee. Whether through adventure or alone time, there are countless ways to make that intimate connection with the one you love.
Experience Authentic Jamaica at St. Elizabeth's Treasure Beach
Experience the other Jamaica along its quieter southern coast. Step back in time, before the arrival of mega-resorts, to a place where natural island rhythms, pristine secluded beaches, locally owned businesses, and genuinely friendly faces were the norm. Treasure Beach still offers that charmingly authentic Jamaican experience with six miles of sandy beaches, private coves, quaint fishing villages, and a laidback irie vibe. Enjoy the languor of a sun-soaked afternoon spent in a hammock under rustling palms with the sounds of the surf and the call of tropical birds to soothe you. This is the real Jamaica. Katamah is an enchanting Moroccan-themed beachside resort in the heart of Frenchman's Bay, and the perfect place to spend your Jamaican holiday. This tropical retreat has five guest accommodations; three unique rooms in the main guesthouse and two free-standing, stylish cabins closer to the water. Owners Monica and Andrew are warm and welcoming hosts, devoted to your island paradise experience. Delight in nearby beach restaurants and shops, rent bikes, take a yoga or painting workshop, enjoy cocktails and conversation with other guests, or simply sit under the stars and watch the moon dance on the waves. Local fishermen are available to provide transportation to The Pelican Bar, which has to be experienced to be believed; they also offer coastal boat tours, and can whisk you away to secluded beaches. Before you leave, ask the owners about the
fascinating eco tour up the Black River
, arrange for a day trip to gorgeous YS Falls, or enjoy a tour of the 250-year-old Appleton Rum Factory.
Explore Your Altruistic Side in the Rio Grande Valley
If you have the flexibility to be gone a minimum of one month, woofing gives you the opportunity to stay in Jamaica for free. You'll still have to get there and back on your own, but woofers, willing workers on organic farms, are part of an international community of volunteers who help out on organic and sustainable properties in exchange for basic room and board. Typically, the schedule that you negotiate with the property owner allows for free time to explore on your own. One such opportunity in Jamaica is RioGran Health Farm, registered with World Wide Opportunities on Organic Farms (WWOOF) at Wwoof Caribbean. It is an Agritourism property being developed as the centerpiece of a community tourism project. Woofers help plant, tend, or harvest bananas, plantains, sweet potatoes, and ginger among others foods. RioGran also needs help with managing the plant nursery, assisting with bee-keeping operations, giving guided tours of the farm, and doing general household chores. In exchange, volunteers stay and eat for free in a dormitory on the property. The owner is willing to give woofers a ride to Kingston every weekend for those who want to go. It's a great way to have a free long-term stay in the country. U.S. citizens can enter with a passport and stay for up to 180 days without a visa, so there are no roadblocks to volunteering up to six months. Classic, romantic, authentic, or altruistic, which Jamaican experience is right for you?
Click here to compare rates and read reviews of hotels in Jamaica
Expedite Your Passport Now!